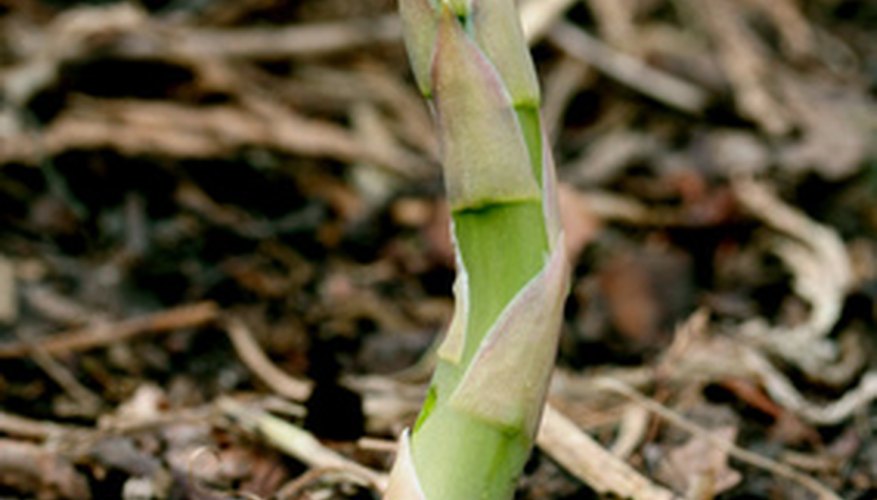 Typically planted from 1- or 2-year-old root crowns that have been grown from seed, asparagus produces tender young shoots prized for their delicate flavor. Although you can certainly start asparagus from seed, the process is time consuming because asparagus may take up to a month to germinate in cool soil and must be held for a full year before planting in the garden. Often avoided due to the expense of the seed and the long waiting period, the process itself is relatively simple and can be accomplished in the home.
Select seed starting trays with individual cells for germinating asparagus. Asparagus roots grow straight down and require cells with a depth of 2 to 3 inches. According to the University of Ohio, an 18-by-18-inch plastic tray with 64 cells that measure 2 by 2 by 3 inches is ideal for germinating asparagus.
Fill the cells with a mixture of one part peat moss to one part vermiculite. Mist to moisten the soil mixture. Plant one seed per cell to a depth of one-half inch. Use care to center the seed in the cell. Keep soil moist but not soggy until seedlings appear.
Place in a warm location to maintain a temperature of 85 degrees F for five to seven days to germinate the seeds. Move to an area in bright light with temperatures between 75 and 80 degrees F during the day and a temperature of 70 degrees at night for two to three weeks until seedlings emerge. Maintain high humidity levels with trays filled with pebbles and water, misting or enclosing in a miniature greenhouse.
Reduce the daytime temperature to 75 degrees and nighttime temperature to 60 to 65 degrees when seedlings are 1 to 2 inches tall. Reduce humidity. Water when soil dries.
Apply 20-20-20 fertilizer at three-fourths strength for the first month and begin a regimen of full strength fertilizer at four weeks.
Transplant to the garden in the spring after the danger of frost when crowns are 1 year old.
Things You Will Need
Seed starting tray (64 cell plastic)

Peat moss

Vermiculite

20-20-20 fertilizer

Mister
Warning
Do not start asparagus seeds in foam containers, because the aggressive roots will grow through plastic.