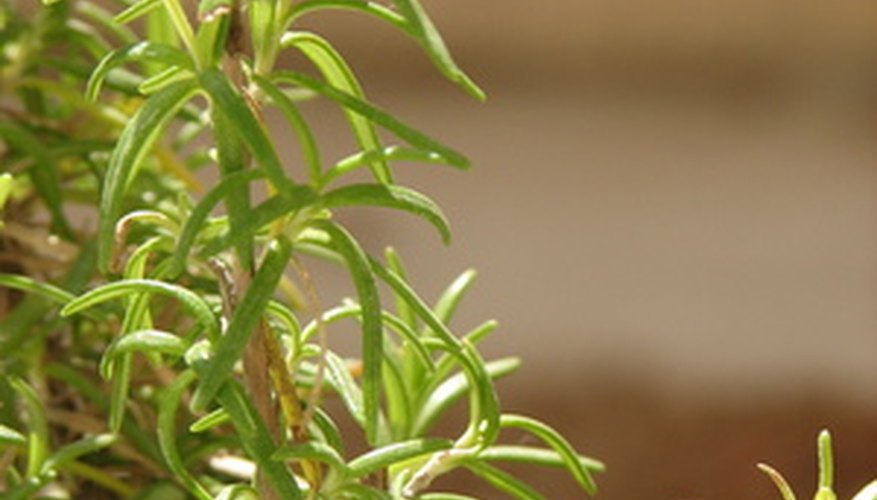 Albuquerque has two USDA Hardiness Zones, 6 and 7. It is located just where the two zones meet. Gardeners in Albuquerque also have to be aware of the soil conditions in the city. The soil in Albuquerque is high in alkaline and low in nitrogen. Amend the soil depending on the individual plant requirements. In most cases, a nitrogen-rich fertilizer will have to be added.
Rosemary
Rosemary (Rosemarinus officinalis) is an evergreen shrub with green 1-inch long, needle-like leaves that grows up to 6 feet tall and 4 to 5 feet wide. The pale-blue flowers bloom in the winter and spring, growing in clusters. Plant rosemary in full sun and a well-drained, fertile soil. For Albuquerque, pick a variety called 'Arp,' which is hardy in USDA Zone 7. Bees use the nectar to make honey.
Cherokee Rose
Cherokee rose (Rosa laevigata) is an evergreen, climbing rose that grows from 10 to 12 feet tall and 15 feet wide. The white flowers bloom in the spring growing the entire length of the canes and measuring about 4 inches in diameter. The bright-green leaves are oval-shaped and from 1 to 3-1/2 inches long. Plant Cherokee rose in full sun and a soil that is fertile and well drained. Birds will come to make a meal out of the hips-the fruit that is left after the rose is done.
Gardenia
Gardenia (Gardenia augusta) is also called cape jasmine and is a member of the madder family. The plant is a shrub that grows from 6 to 8 feet tall and about the same in width. The plant features dark or bright-green leaves and fragrant flowers that start out white and turn yellow as they age that bloom from mid-spring to early summer. Plant gardenia in partial shade to full sun and soil that is moist, well drained and organic.
Japanese Aralia
Japanese aralia (Fatsia japonica) is also known as fatsia and is a member of the ginseng family. The plant is one of the largest ivies, growing up to 8 feet tall with leaves that grow up to 12 inches wide. The leaves are so heavy, they can pull the plant over to one side. The white flowers appear in the fall growing in clusters at the ends of the stems, but only on mature plants. The flowers give way to small, black fruits that ripen in the late winter. Plant Japanese aralia in partial to full shade and a soil that is moist and well drained. The vine is hardy in USDA Zones 7 and 8 in Albuquerque.