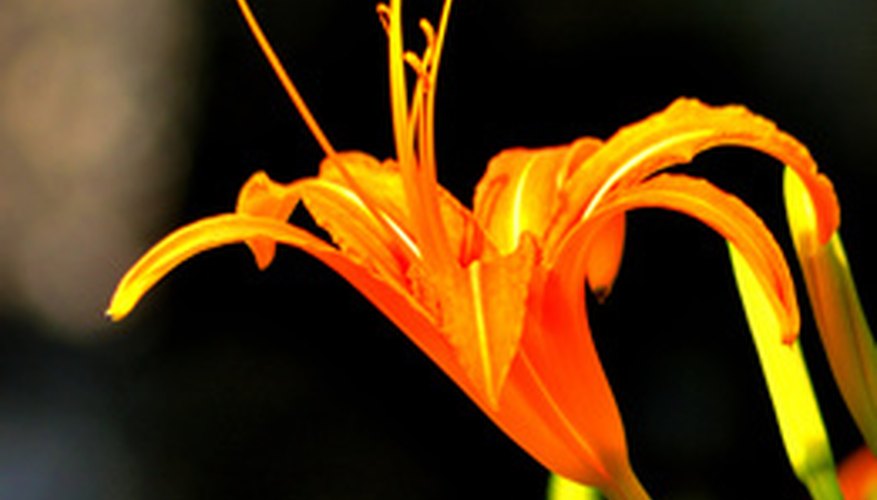 Ohio's four distinct seasons make growing perennials in "Buckeye" gardens even more enjoyable. From the emergence of new shoots in March and April to the first frost in November or December, Ohio's many home gardens burst with color. Some perennials are found again and again in these gardens. Usually, they are hardy specimens that are native to the region, or those that have adapted to the climate over time.
Daylilies
Daylilies, formally known as "Hemerocallis," are a staple among Ohio gardeners. Particularly common among the 13 to 15 species and more than 300 cultivars of this plant are the short, yellow "Stella d'Oro" lilies and the lanky, bright orange Tawney daylilies, which are frequently found by the sides of Ohio byways. Daylilies thrive in full sun in USDA growing zones three through nine. Once established, they require little care, but they benefit from being divided every five to seven years. Most daylilies bloom in mid-summer.
Purple Coneflowers
Purple coneflowers, formally "Echinacea Purpurea," are another common Ohio garden perennial. These fuchsia-hued, daisy-like plants are native to the Midwestern United States and adapt well to sunny, well-drained gardens in USDA growing zones three through nine. Purple coneflowers blossom in mid to late summer in Ohio, and they keep their blooms through early fall. These perennials also self-seed easily.
Hostas
It's rare for an Ohio shade garden to not include at least one variety of hostas. These broad-leafed perennials are ideal for defining a border or for punctuating a group of plants. There are about 70 species of hostas, and they are hardy in USDA growing zones three through eight. Commonly found in Ohio flower beds are the hosta "Moonlight," with its heart-shaped, olive-green leaves and lavender blossoms, and hosta "Undulata" with its variegated leaves.
Peonies
Graceful, well-established peony bushes are found in many yards in Ohio's older neighborhoods. Though not native to North America, peonies (formally "Paeonia") were a popular Ohio garden fixture in the early 20th century. Since these plants can live more than 100 years, many specimens planted back then still thrive. Many Ohio peonies are pink, but they also exist in white, red, yellow and variegated patterns. Peonies are cold-hardy in USDA growing zones three through eight, and they prefer sunny, well-drained spots. Peonies don't like to be moved, so choose your location well.