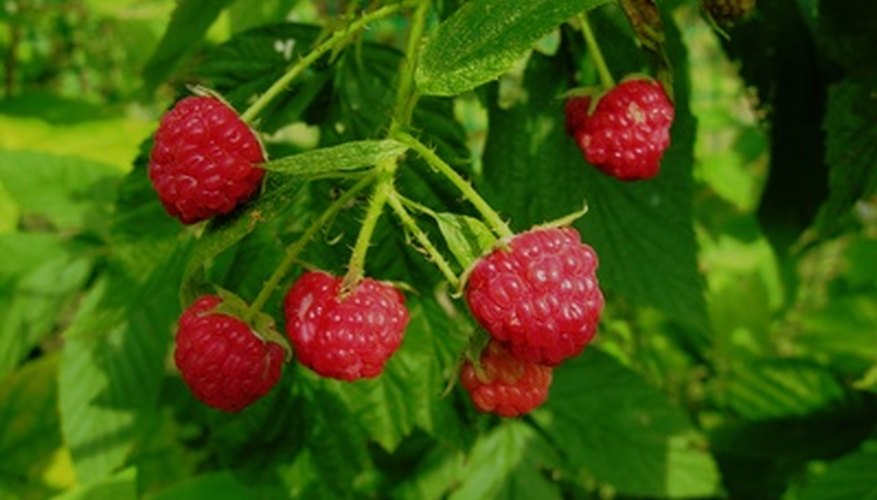 Sweet, red raspberries are one of summers delicious treats, and what could be better then picking your own, sun-warmed and grown in the backyard? The tiny seeds in each raspberry fruit are called pips, and each pip can be sprouted and grown. So next time you come home with a basket of fresh raspberries, set a few aside, collect the seeds and start your own stand of raspberry canes in your garden.
Pick out three or four fresh, ripe raspberries and place them in a fine mesh sieve.
Roll the fruit with your thumb or finger until the fruit is smashed through the sieve, leaving the seeds behind.
Rinse the seeds until they are completely free of fruit and juice from the raspberry.
Place the seeds on a paper towel on a sunny windowsill or shelf, and let them dry for a day.
Fill a planting tray half full with potting soil or seed-starting potting mix.
Place the raspberry seeds on the soil in the planting tray about 1 inch apart or one per compartment if the tray has 1-inch individual sections.
Cover the seeds with 1 to 1 ½ inches of potting soil and water the seed tray so that the soil mixture is evenly damp all the way through.
Put the seed tray in a cool dry place out of direct sunlight. Keep the soil moist but not saturated; feel the top of the soil with your finger, when it begins to feel dry to the touch, water again.
Transplant your seedlings into individual 6-inch planting pots when they are 3 to 4 inches tall. This will take three to four months. Keep the seedlings indoors until spring.