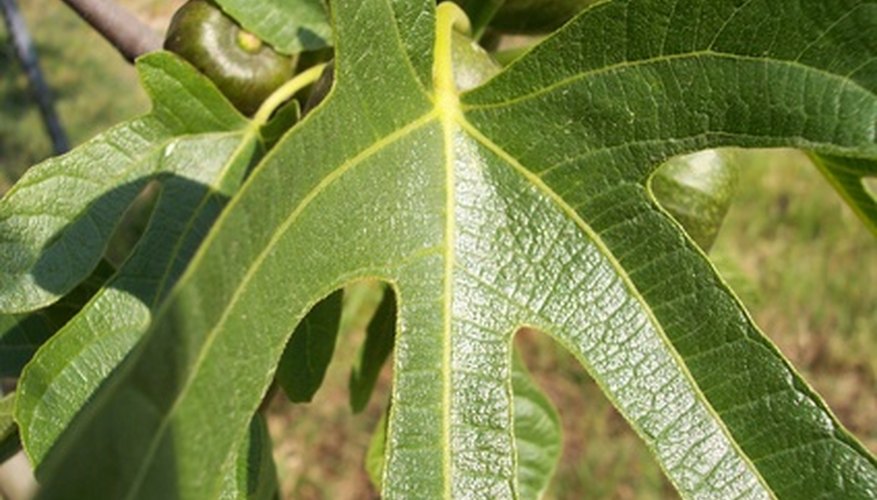 USDA planting zone 5 is a band of temperate weather that extends across the central United States and small pockets of the Rocky Mountains. The zone is characterized by winter lows down to -20 degrees F. Although some fig trees are hearty through this temperate zone, not all will survive sudden extreme cold in this zone. The best policy for caring for a fig tree is to transplant it into a container and move it indoors during winter months.
More Info about Hardiness Zones
Prepare your tree for transplant by root pruning it three to six months in advance of transplanting. To root prune the tree, insert a spade into the ground around the roots of the tree. New roots will form from the point where the old roots were severed.
Wait for three to six months after root pruning. Select a container that is slightly larger than the root ball of your plant.
Water your plant two days before transplanting to help the soil in the root ball adhere to the roots.
Insert a shovel into the ground at a point 4 to 6 inches outside of the point you root pruned your fig tree to dig up the root ball with the maximum number of new roots.
Slide the shovel under the root ball and tilt back to lift it.
Fill a container 1/3 of the way full of potting soil.
Place the root ball directly into the container and fill around the sides with potting soil. Cover the top of the root ball slightly with soil. Never bury the top roots in more than 1 or 2 inches in potting soil.
Place the container on a patio and bring it indoors nightly. Gradually increase the time it spends indoors to acclimatize the plant to indoor conditions.
Place the potted plant in a sunny location. Check the soil daily by inserting your finger to your second knuckle. Water whenever the soil feels dry and few particles stick to your finger. The soil should remain as damp as a wrung-out sponge. Fertilize with a balanced (10-10-10) liquid fertilizer according to the fertilizer's directions.