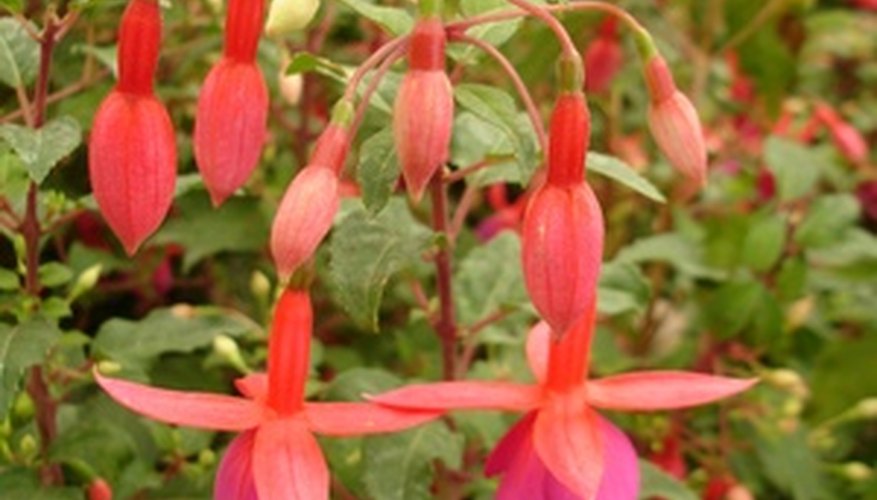 Plants use sunlight for the energy they need to grow, blossom and set seed. If there isn't enough, they will usually grow tall and lanky, with few or no flowers. Some, of course, have adapted to low light conditions and need less sun to flourish. Be aware that plants that flower well in part shade usually need rich soil high in organic matter since they colonize the forest floor in the wild.
Bulbs
Snowdrops have small white flowers in earliest spring on stalks only 4 to 6 inches high. Plant them in masses beneath trees for blooms that rise above a last inch of snow. Narcissus, or daffodils as they are commonly known, come in all shade of yellow, gold and orange, plus white and cream. They are reliable repeat bloomers and the bulbs multiply well, giving large clumps after three or four years, and are never bothered by rabbits or other rodents. Varieties are available that bloom from early to late spring.
Siberian squill, Scilla sibirica, is a low bulb, up to 6 inches high, with nodding true-blue flowers in early spring. It spreads fairly quickly into large groups that look particularly attractive with ferns.
Groundcovers
Periwinkle, Vinca minor, is a dense, small-leaf ground cover with inch-wide violet-blue flowers in spring. It grows quickly, does a good job of suppressing weeds and will withstand some drought once established. Ajuga reptans, or carpet bugle, has spikes of tiny purple flowers in late spring over rounded leaves that may be shaded with purple or variegated with pink, white or yellow. It likes moist soil, even growing in poorly drained spots, but will take some drought if shaded.
Viola labradorica, or Labrador violet, is a tiny purple-leafed violet that spreads to form large colonies. Too low to crowd out weeds by itself, it can be used among ferns and hostas as flowering carpet.
Annuals
Fuchsias are tender shrubs with hanging, bell-like flowers in shades of pink and purple that are usually grown as annuals. Some varieties are upright, but many are trailing and do well in hanging baskets. They dislike hot summers and need high humidity.
Tuberous begonias have large blossoms that look much like yellow, pink, salmon or pink roses. They are tender perennials with tubers that can be overwintered indoors and come in upright and hanging varieties.
Impatiens are low spreading annuals with flowers of red, salmon, pink or purple that look like small single roses. The New Guinea Impatiens have larger flowers in yellow, orange and hot pink, often with furrowed leaves splotched with yellow.
Nasturtiums are old fashioned standards, easy to grow from seeds, with flowers in yellows, golds, oranges and reds. The round leaves are edible and have a peppery taste and the stems are often vine-like, even climbing through shrubs. Look for packets of seeds in separate colors, from pale yellow and cream through salmon and dark red.
Perennials
Cardinal flower, Lobelia cardinalis, is happy in bogs or in moist part-shade and has two to three foot spikes of brilliant red flowers in mid-summer. Hybrids are also available with purple or ruby-red blossoms.
Geraniums, the true perennial Geraniums rather than the popular Pelargoniums, are tough spreading plants with flowers in the purple to pink range. Easy to grow and thriving in almost any soil, they range in size from low groundcovers only a few inches high to rounded mounds several feet in height and width.
Western bleedingheart, Dicentra formosa, is a low ferny plant about 6 inches high with pink flowers from late spring through early fall, an unusually long bloom time for a perennial. There are also varieties with deeper pink or white blossoms.