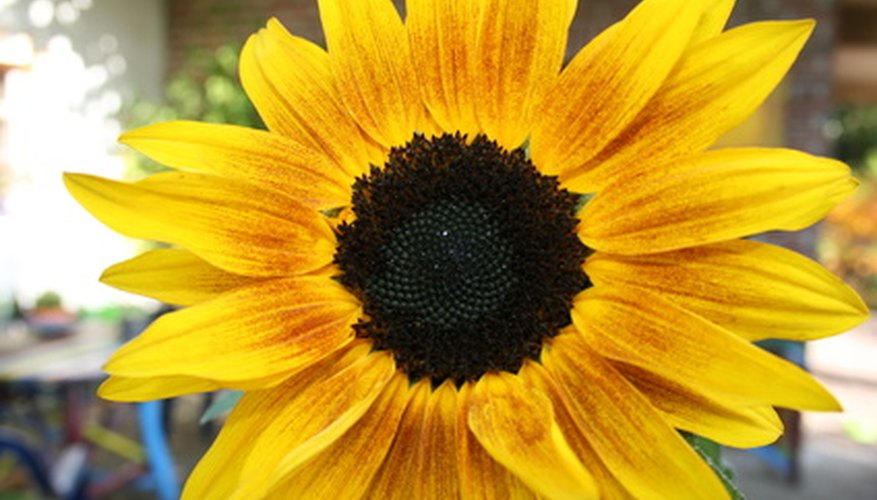 Often the best way to add a splash of color to landscaping areas is to plant flowers that can take direct sun. Many of these flowers begin blooming in June to provide summer to early fall color. There are both annual and perennial flowers that flourish with direct sun to optimize garden designs.
Borders
Perennial and annual flowers that tolerate direct sun make excellent borders for garden areas. They also do well along walkways, driveways and around sun-exposed patios. Some flowers that can take direct sun for borders include ageratrum, rose moss, tickseed, blanket flower, creeping phlox and basket of gold.
Decks
Often decks have areas of direct sunlight that make decorating a challenge for gardeners. Adding flowers in hanging baskets or containers adds color to deck areas for relaxing during summer evenings or entertaining guests. Fernleaf yarrow, geranium varieties, periwinkle, zinnia, pansy varieties and nasturtium tolerate full sun for deck decorating.
Tall Flowers
Tall flowers add color to rock walls, fences and mailboxes. Often these areas of the yard are exposed to direct sun, making landscaping a challenge. Add color to patio areas surrounded with tall hedges or fencing with tall flowers. Garden peony, bearded iris, daylilies, flowering tobacco, cosmos, cockscomb and snapdragon enjoy direct sun in these areas of the yard.
Attract Wildlife
Flowers that can take direct sun often have brilliant colors that attract wildlife. Hummingbirds and butterflies enjoy insects and nectar from these flowers. Other birds often feed on the seed. Ajuga, hollyhock, baopa, bee balm, begonia, blackfoot daisy, sunflower, calendula, cosmos, daylily and heliotrope provide nourishment and attract wildlife to yards.
Rock Gardens
Rock gardens are often placed in sunny locations with well-drained soil. Many of the same flowers that can take direct sun for borders do well in rock gardens. Plant taller flowers in the center and scatter different plants by height and color throughout the rock garden to create a focal point for a yard. Another option is to mix in several flower varieties that attract wildlife to the rock garden.