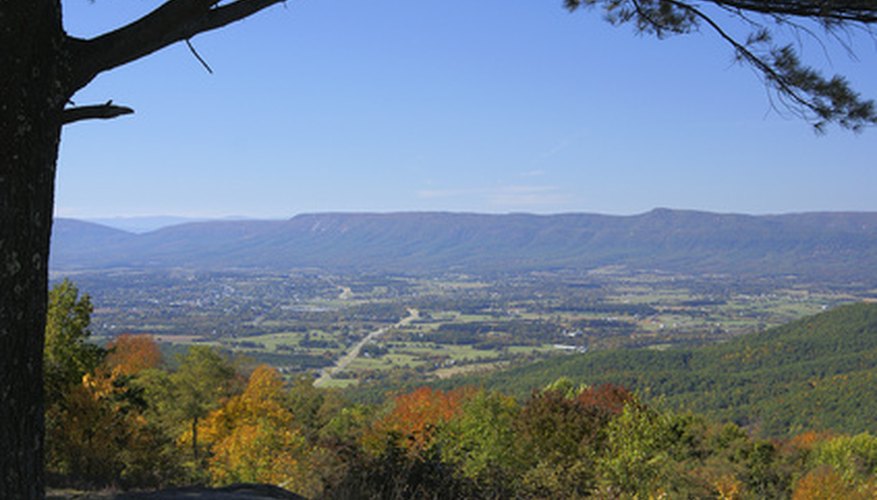 Modern parkways supply a more picturesque driving route for vehicles in a region with dynamic landscape features such as woodlands, mountains or lakes. Although safety remains the primary concern in their design, the addition of vegetation in medians, on overpass bridges or to visually frame a beautiful vista truly turns a mundane freeway into a parkway.
Trees
Trees help provide scale to a landscape, allowing someone in a car to better judge visual depth and distance while also adding visual interest. Although trees must be planted well away from the roadway itself so they do not pose a hazard, their use at parkway exit ramps or on spacious medians helps to visually announce an important design feature. Tree branches act to screen bridge overpasses, and can provide dynamic seasonal interest, such as flowering in spring and turning its foliage an amazing color in autumn. Small-sized trees growing on hills or overpass berms help stabilize soil and prevent erosion.
Shrubs
Shrubs provide the same uses as trees, just on a smaller scale. Perhaps the best use of shrubs along a parkway is for screening. Whether blocking a view of a building facade, maintenance area or nearby road, the plants maintain a sylvan environment, making sure that drivers always see plants along the road, not hints of civilization. Clustering shrubs at roadway exits or at overpasses or along expanses of barren medians lessens views of other vehicles. Use seasonally interesting, low-maintenance shrub species--those that don't need watering, pest or disease treatments, or are short-lived. Native shrubs are a sound choice.
Flowering Perennials
Perennial herbs and bulbs sown along medians and shoulders of the parkway add seasonal color, providing something interesting other than mown grass. Daffodils naturalized in drifts, daylilies growing in large expanses or other wildflowers such as black-eyed Susan, tickseed, blazing star, lupine or asters combine to create dynamic landscape displays. Since the vehicles travel at high speeds, make beds of single-species or mixed flower beds long and narrow so they remain in view for seconds longer. However, the significant costs associated with the acquisition of large numbers of plants may make the use of perennial or self-sowing annual flowers less desirable than the use of woody trees and shrubs.
Grasses
Turf grass doesn't need to be the only grass seen along parkways. Ornamental grasses, with their more colorful, textured foliage and decorative flowering and seed plumes, become large enough to be seen and resemble shrubs. So many species of native and exotic grass species exist that a landscape designer may select types that grow in varied conditions along the roadway. Also, ornamental grass installations started from seed reduce initial costs. Weeding ensures the ornamental grasses do not suffer while weeds or turf grass prosper.