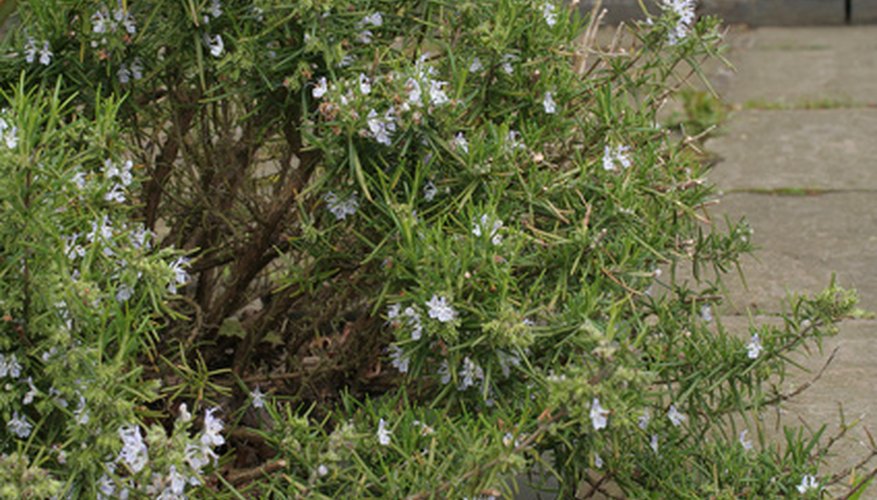 Why buy herbs at the grocery store when you can have a whole garden of them at home? For the price of a few packets of fresh herbs at the store, you can have a small outdoor herb garden, wherever you live in Texas, which will satisfy all your kitchen and home needs. From basil to rosemary to thyme, you'll be cooking with the freshest herbs possible from your own garden that's easy to plant and maintain.
Growing a Herb Garden in Texas
Locate an area in your garden that gets 6 to 8 hours of sunlight every day. Most vegetable and herb plants need at least that much sunlight to grow happily. This area should also have well-drained soil that isn't parched, but also isn't always soggy.
Select the herbs you'd like to grow. In Texas, Mediterranean herbs like rosemary, thyme, basil and oregano tend to be reliable, thanks to the somewhat similar dry, warm conditions that these plants prefer. You can also experiment with other herbs like lemon verbena, chamomile and mint, all of which should also do well in most Texan climates and soils.
Purchase either seeds or healthy transplants of the herbs you've chosen. Seeds will take longer to grow to maturity, but are typically a better value in terms of cost. You may not want as many plants as you get seeds in a packet, though, so consider sharing them with a friend. Transplants should be healthy and strong-looking, and there should not be excessive root growth coming out of the bottom of the pot.
Follow the directions on the seed packet or transplant for planting, paying close attention to the depth for the seeds if using. Water the seeds or transplants well once they're in the ground.
Continue to water your herbs regularly. Rosemary, thyme, oregano and mint tend to be more drought-resistant--a great feature for Texas gardeners. Be sure not to overwater these plants. You can also set up a drip irrigation system or use microsprinklers on a timer to better manage your herbs' watering.
Maintaining Your Texas Herb Garden
Fertilize herbs occasionally with organic fertilizer--a better choice for food crops. Good choices include composted manure and fish emulsion, available at many nurseries.
Harvest some of your herbs regularly to encourage new growth. Clip batches of herbs from different locations on the plant to help it keep its shape.
Move plants indoors or provide frost protection during cold snaps, which can occur in many areas of Texas. Gardeners in the Rio Grande Valley are least likely to have this problem, but other gardeners will need to preserve their plants during possible freezes.
Things You Will Need
Sunny patch of soil

Garden trowel

Herb seeds or transplants in pots

Water
References