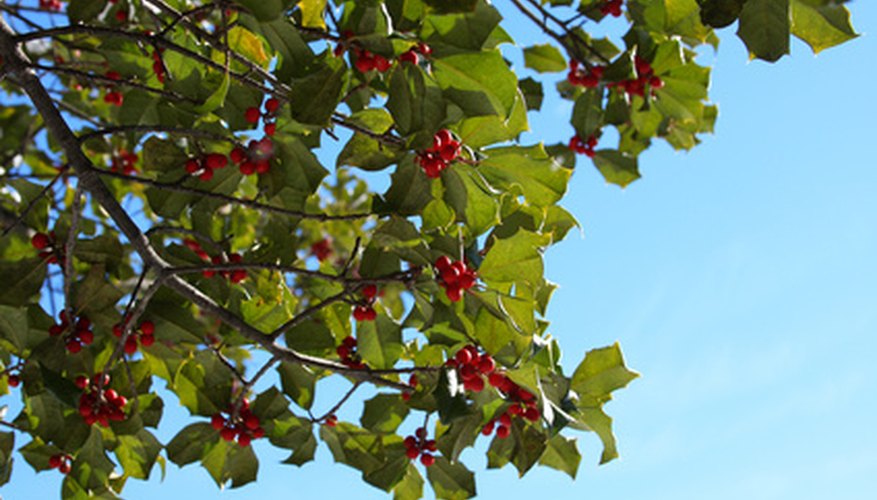 Holly trees are known for their spiny evergreen leaves and vivid red berries, popular especially during the Christmas season. These trees add beauty to any landscape and provide fruits for wild birds. Transplanting a 3-foot holly tree to a new location in your yard is possible with preparation. Plan to transplant your tree in early spring, after the last chance of frost has passed. This gives your newly transplanted holly tree a chance to become established before the cold weather arrives.
Select a site to transplant your holly tree that has well-drained soil and full sun, if possible; a holly tree will tolerate partial shade also. Choose a location that will allow for the full size of your holly tree when it matures, which could be over 40 feet in both height and spread.
Dig the hole for your tree 18 inches deep and 36 inches wide. Use a rake to loosen the soil on the sides and bottom of the hole to allow the roots to spread easily.
Tie up the bottom branches of your holly tree with twine, if the branches are near the ground. This will prevent them from being harmed when you dig up your tree.
Push your shovel into the soil in a circle 2 feet away from the trunk of your planted holly tree, going down 18 inches. Use your shovel to cut the roots below 18 inches.
Slide burlap under one side of the root ball. Pull it over to the other side and up. This will keep the root ball intact and make it easier to move your holly tree to its new site.
Carefully lift your holly tree by grasping the four corners of the burlap, not the branches or trunk.
Tie the burlap with twine tightly around the soil.
Place your holly tree in the new hole. Check the height to make certain it is the same level in the ground as it was before. If needed, remove your tree, and dig the hole deeper or add soil to it.
Fill the hole halfway with the removed soil. Tamp the soil, and water thoroughly.
Untie the twine holding the burlap, and push them both below ground level. The twine and the burlap will decompose.
Finish filling the hole, and water again.
Mulch the area with 3 to 4 inches of mulch, keeping it away from the trunk.