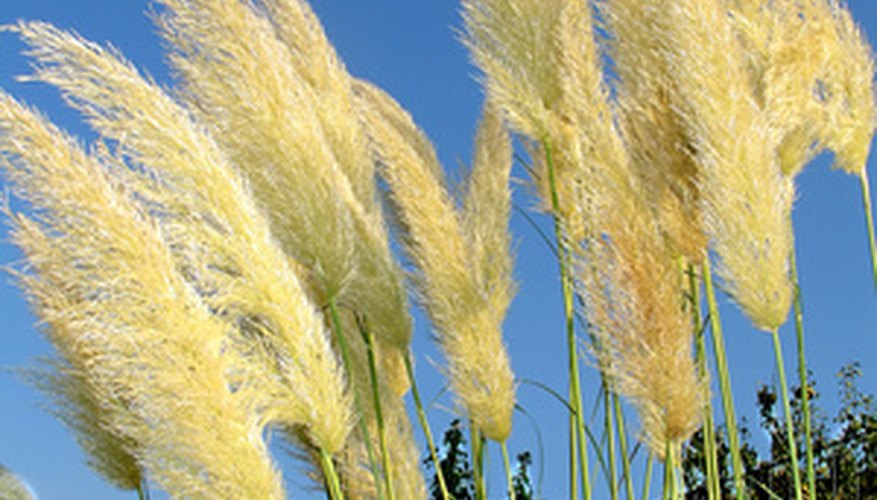 Their form can be dramatic, their plumage whimsical and their hues striking, but certain ornamental grass varieties are also invasive. Recent decades have seen their popularity increase as distribution methods have changed and people have sought to grow plants that are aesthetically and structurally different from traditional varieties. The pleasing appearance of ornamental grasses can't be denied, but some states have banned species because of their tendency to spread and to choke out native plants.
History
Ornamental grasses have been used in landscapes for centuries, according to Purdue University's horticulture department. In the late 1800s, several examples of landscaping used such grasses to achieve an exotic, tropical effect. North American usage fell by the wayside in the 20th century, until about the early 1970s, when they regained favor for their appearance and low maintenance. Well-known landscape artists like Kurt Bluemel and James Van Sweden further popularized ornamental grasses.
Species
According to the Maryland Native Plant Society, invasive species that have invaded Maryland, particularly its meadows, are often erroneously promoted as native. Pampas grass, Japanese silver grass and reed canary grass are three of the most invasive species in the Piedmont and inner-coastal plain regions. In California, species to avoid include pampas, giant reed, giant cane and green fountain grass. Some of these can be fire hazards, choke waterways and limit recreation in conservation areas. Minnesota, Florida and other states actively warn against planting these species.
Appearance
States like California urge growers to resist the allure of certain invasive species. Pampas grass, for instance, is a giant variety that forms tussocks and white to pink feathery flower plumes. Japanese silver grass, which can grow up to 7 feet tall, has slender arched leaves and pink flowers.
Management
Control methods are usually labor intensive. The Virginia Native Plant Society, for instance, states that weeping lovegrass can be controlled by digging out root systems in late winter or early spring and initiating a controlled burn in the area to kill seeds. Herbicides can also be used before plants go to seed, as can mulching and limiting the plants' water supply.
Suitable Varieties
The United States National Arboretum suggests planting some "underused," non-invasive ornamental grass varieties instead. For example, pink Muhly grass, hardy to USDA zone 7, is a short shrub featuring clouds of pink plumes. Mexican feather grass, hardy to zone 6, includes thick, cream-colored ends. Indian grass and prairie dropseed are some other alternatives.