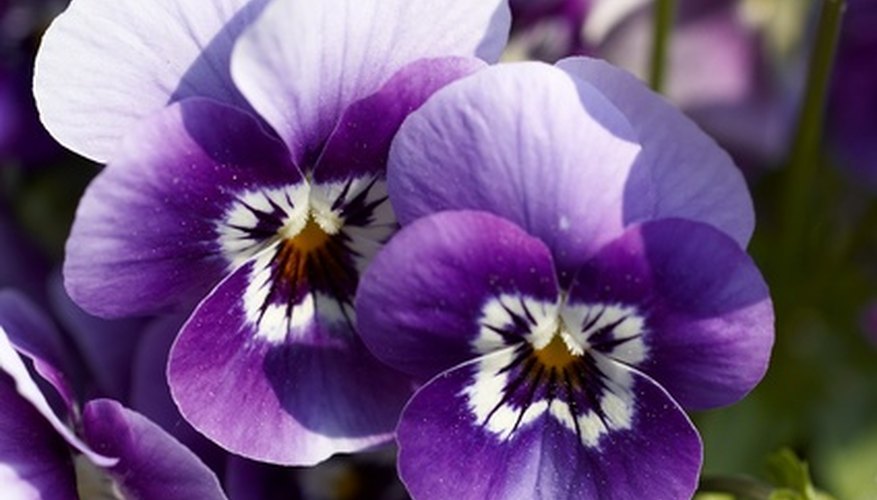 Pansies are the favorite annual to plant in early spring in many areas. Nurseries start thousands of flats full of pansies to sell as soon as the snow has melted and everyone is itching to get outside to work on their yards. These smiling flowers will provide instant color to your flowerbeds and if you treat them right, they will last for months.
Season
It's possible to plant pansy seeds in the late fall if you have moderate winters. The seedlings will slowly grow over the cooler temperatures of winter and then burst into bloom as spring commences. You can start seeds indoors about 8 weeks before the last frost. They will be ready for your spring planting. Of course, you can purchase flats of healthy full hothouse pansies sometimes while the snow is still on the ground. Pansies are cool weather flowers and can withstand light frosts so you can plant them early or in late fall for an extended bloom before winter.
Shelter
If you provide pansies a sheltered spot to grow, you might be able to coax them into growing year around. Shelter them from direct sun and from low-lying areas where cold air accumulates. Many times the pansies will reseed themselves in sheltered areas and you can keep encouraging the baby seedlings to grow. This seems to work especially well with the tiny-blossomed pansies.
Seeds
Pansies' seeds are a little tricky to germinate. Sow them on the surface of the soil, then cover them with a layer of cloth or paper to provide darkness for the seed. Keep everything moist, not soggy and check every day to see if they have sprouted. Remove the cover just as soon as you see the green sprouts. Thin them so there is one plant per every two square inches. Set them in a sunny spot until you can plant them outside.
Mass Planting
Pansies can provide a stunning splash of color in your yard if you plant them close together. Use one color in swaths or blocks and set the plants about six inches apart. You can plant similar colors together for a rainbow effect, using blues by purples by reds by oranges by yellows by whites. You can also try blocks of pansies to give a checkered effect.
Feeding
Pansies are known for being heavy feeders. When you get your site ready for planting, add some well-rotted compost into the soil. Water your pansies whenever the soil feels dry. Their roots will not go deep and most poorly growing pansies just need water. Add a soluble fertilizer to their water every two weeks for extra food. The more the plant grows, the more flowers you can expect.