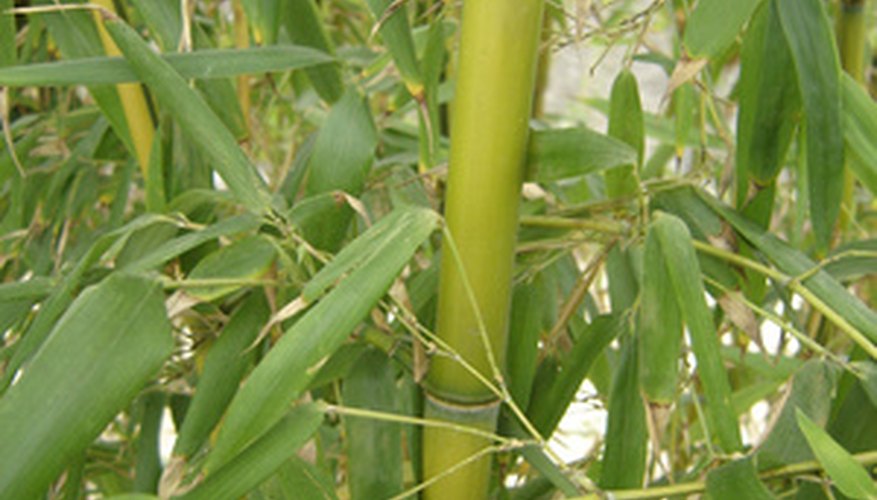 Georgia ranges from United States Department of Agriculture (USDA) Hardiness Zone 7 in the north to Zone 8 in the south. Because of its warm climate, Georgia can support a number of exotic plants outdoors, including bamboo, ficus and ornamental banana. With proper care and water, these plants can thrive in summer heat and humidity.
Bamboo
In nature, bamboo grows under the protective cover of tall trees and do very well in full or partial shade. Bamboo is a very large grass, ranging from a few feet tall to nearly 40 feet tall, depending on the variety. Bamboos in Georgia can grow very well either as a potted plant or in the ground. If growing bamboo in the ground, you may need to install a bamboo barrier around bamboos that propagate with runners. Bamboo that propagates with runners can become invasive without a barrier.
Plant young bamboo slightly above the soil line. If planting rhizomes, plant them with their "eyes" up, 2 to 3 inches below the surface of the soil. Although bamboo are drought tolerant, they require once or twice a week for a total of 1 to 2 inches of water. Mulch your bamboo to prevent the evaporation of water from the soil.
Ficus
Ficus, the trees on which figs grow, can grow well in Georgia, especially in the warmer southern part of the state. Ficus not grown for fruit can survive well in shade. A common ficus that grows well as an outdoor shade plant in Georgia is the Ficus benjamina. According to the University of Georgia, the Ficus benjamina has an 85 percent survival rate and has a 35 percent growth rate in subsequent years.
Many other varieties of ficus also grow well in the shade in Georgia. Ficus grow well in a variety of different soils, but can require a lot of water. However, allow the soils around your ficus to dry out between waterings to encourage strong root growth.
Ornamental Banana
Ornamental bananas can grow in shady outdoor locations in southern Georgia. Ornamental bananas produce small, hard fruit that is inedible. Although ornamental bananas grow well outside, temperatures below 25 degrees F will kill the tops of the plant. This will not, however, kill the entire plant.
Some people in Georgia grow ornamental bananas in pots or tubs and take them indoors for the winter, especially when temperatures 25 degrees F or below are expected. Ornamental bananas will grow well in most well draining soil. They require deep, regular water in the summer if rainfall is scarce. Prune your ornamental bananas to allow only one stalk to develop per plant. Remove the main trunk after fruiting to ensure tree health.