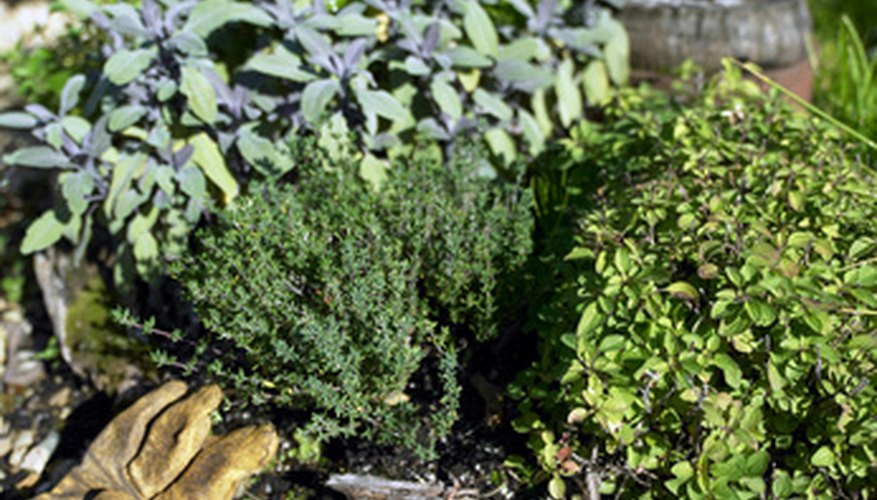 Herbs can not only save gardeners money, they can make it for them, too. This particularly holds true in Arkansas, where the state's warm, southern climate along the Gulf of Mexico makes it easy to grow herbs. Hardier herbs, if properly protected from harsh winters, will survive as perennials, saving a gardener even more time and money. Growers can cultivate herbs that have uses other than culinary, thereby diversifying their sales.
Pick a location with good sun and well-drained soil, vital for growing herbs in Arkansas, where the climate is often humid and sub-tropical. Choose an area that is also protected from the Arkansas weather, which can bring wind, floods, hail and violent thunderstorms. Decide how big your garden will be, keeping in mind that traditional kitchen gardens measure about 20 feet by 4 feet.
Choose herbs like thyme, oregano, chamomile and sage that will grow well in USDA Zones 6, 7 and 8, which span Arkansas. Research how long it takes to grow them by seed, and buy seeds and seedlings accordingly. Sow herbs that will grow by seed inside in shallow planters with potting soil in late winter.
Diagram the outdoor garden on grid paper and choose where your herbs will be planted, taking into account height and spreading habits to ensure nearby plants will have enough light and room to grow. Collect design and plant ideas from demonstration herbal and kitchen gardens, like those found at the Ozark Folk Center in Mountain View, and the Arkansas governor's mansion in Little Rock.
Water the outdoor plot soil lightly, if dry, and transplant young plants to the garden in spring after the last frost date. For Arkansas, this is March 20 in the south, April 1 in the central regions, and April 20 in the northwest. Sink buckets or clay tiles into the soil to contain herbs, like mint, that are prolific spreaders. Practice successive planting by sowing seeds in small, plastic, labeled pots every week or so to sell as small plants.
Create a business name and logo for herb sales. Make adhesive labels with the name and logo for airtight containers, and print business cards as well. Consider creating an Arkansas-themed design that is herb-related, like a picture of a honeybee, which is the state insect and feeds off many herbs. Create small pages or pamphlets that contain information about the herbs being sold and their uses.
Dry seeds on cloth or paper. When they are partially dry, rub them between your palms to release them from their hulls, then spread them in thick layers to dry thoroughly on cloth or paper. Or, dry seeds by hanging plant stems and stalks upside down in plastic bags, which will catch the seeds as they drop off the plant. Choose drying areas unaffected by Arkansas' often humid climate.
Dry the leaves in the same manner as the seeds, and crush them into fine pieces by passing them through a wire mesh. Collect your dried seeds and leaves in airtight containers.
Find an event or location suitable for selling herbs, like the local spring and summer farmer's markets in Washington, Greenville and Texarkana. Advertise your herb sale in newspapers and by word-of-mouth. Price whole herb plants, seeds and dried herbs based on seed and growing material costs, sales of commercially grown herbs at stores and labor involved with growing.
Things You Will Need
Sunny plot

USDA Zone 6, 7 and 8-hardy herb plants and seeds

Shallow growing boxes

Potting soil

Buckets or clay tiles

Paper bags

Airtight containers

Small plastic containers

Labels

Scale

Coarse screen
Tips
Pick popular culinary herbs to grow that are ingredients in some traditional Arkansas dishes, like chives and parsley.

Grow some herbs that have multiple uses, like lavender, which can be culinary and used for its aromatic properties.
Warning
Avoid selling herbs solely for medicinal reasons, many of which are based on folklore and are unfounded.