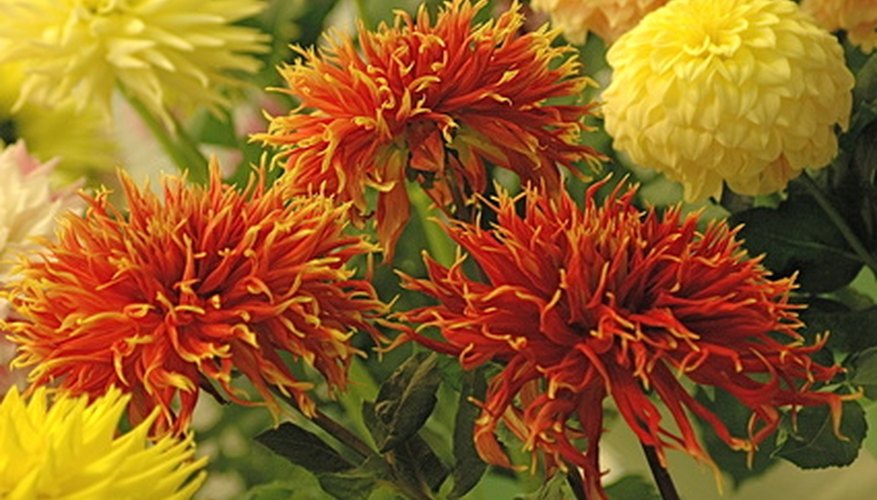 Dahlias are perennial flowers native to Mexico. There are hundreds of varieties from low growing to stems of over 6 feet in height. The large flowers with long stems are commonly used as cut flowers for formal arrangements and fresh flower vases. Dahlias are grown on tubers that bloom in the summer and are hardy in USDA planting zones 7 through 11. Propagating is done through division, seed or cutting, but division of the tuber is the easiest method of propagation for these flowers.
Cut stems back to 6 inches when the plant is fading in the fall, or has died out due to a frost. Allow the plant a week to 10 days to grow new eyes (small shoots) on the tubers.
Dig the tubers out of the ground at least 12 inches away from the flower stub. Carefully lift the tubers out so you don't damage the new eyes.
Wash the tubers off with a gentle stream of water from a garden hose until most of the soil is gone. Place the damp tuber clump in a cool, dry place for a day to allow it to dry out.
Cut the tubers with a sharp knife so that each section has an eye. Cut off any damaged parts or sections that don't have an eye and discard.
Cover the tubers in vermiculite in a cardboard box and store in a location that is dry and the temperature will stay at about 40 degrees until spring. Do not allow the tubers to freeze, and check on them periodically to see if they are starting to shrivel. If so, dampen the vermiculite slightly.
Plant the tubers in the spring when all threat of frost is gone.