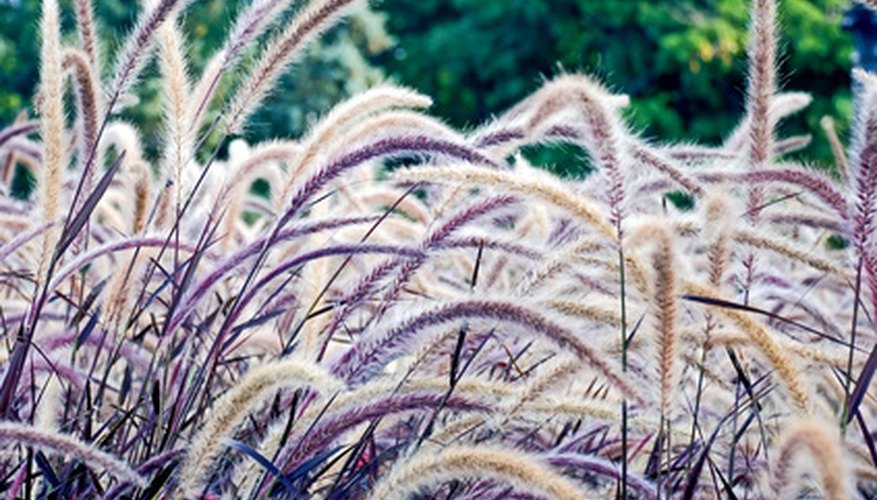 Ornamental grasses add unique textures, motion and colors to any landscape, and can be used in borders, edging, background plantings, groundcovers, mass plantings or individual specimens. Ornamental grasses can range from less than 2 feet tall up to 15 feet and may be shades of green or brown, or with yellow or white striping and bands. Many ornamental grasses turn reddish, brown or beige in the fall. Some common ornamental brownish-colored grasses, or grasses that turn a shade of brown in the colder months, include fountain grass (Pennisetum spp.), Northern sea oats (Chasmanthium latifolium), bluestem (Andropogon gerardii and A. scoparius) and autumn moor grass (Sesleria spp.).
Water your ornamental grass deeply and thoroughly once each week throughout the first growing season after planting it. Provide at least 1 inch of water every week, and then water your ornamental brown grass in subsequent growing seasons only when rainfall is less than 1 inch per week.
Feed your ornamental brown grass once each year in the spring with a slow-release 12-4-8 or 16-4-8 NPK (Nitrogen-Phosphorous-Potassium) fertilizer. Follow the application instructions on the label for the proper dosage.
Prune your evergreen ornamental grasses by trimming back any dead or diseased foliage or growth in early spring. If you have ornamental grass that dies back in the winter, cut back the grass to about 3 inches from the ground in late winter or early spring.
Spread a 3- to 4-inch layer of organic mulch on the ground around your ornamental grass every year in the fall. The mulch will feed the ornamental brown grass and insulate the roots from winter freezes.