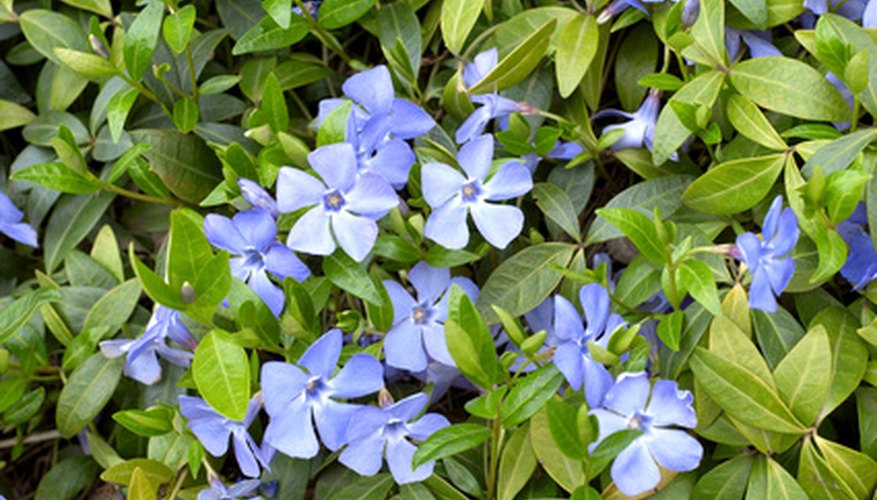 Vinca, also called periwinkle or creeping myrtle, is a popular ground cover that is easy to grow in both sun and shade. Its shiny, dark green leaves and delicate lavender-blue flowers quickly send out long trailing stems and also form mounds that can grow as high as 2 feet. But without regular maintenance, vinca's trailing habits allow it to sometimes overstep its bounds, growing out onto lawns or paths. Luckily, because its roots are shallow, vinca is easy to remove.
Cut the trailing stems at the spot where you want the vinca to stop. You can grab handfuls of stems and lift up the vines and roots or you can cut each stem separately. Don't worry about disturbing roots for stems you want to remain--they will quickly re-root in place.
Pull up the remaining vines that you want to remove slowly so that the shallow roots come up along with the stems. You may need to dig into the soil with one hand while you pull with the other hand in order to get any roots that may be somewhat deeper.
Repeat steps as necessary over a period of a few months in order to remove all traces of the plants. Because vinca does root so easily, it can re-establish itself and begin growing from bits of roots that you may have missed during your first removal efforts.
Tips
Removing vinca is easiest when the soil is somewhat damp from recent rains or watering.

Choose a hot day to remove vinca as the sun will dry out any bit of roots left on the ground and reduce the chances of the plant re-establishing itself.