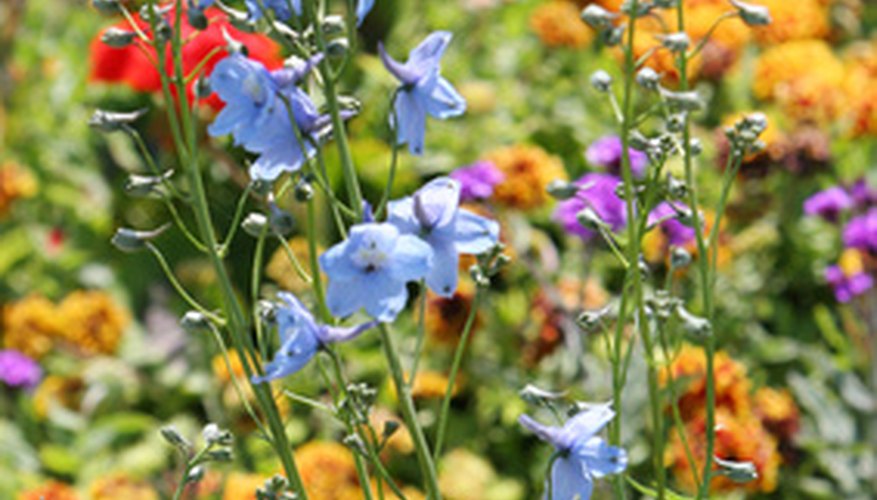 Flowers growing wild in a meadow are one of the most beautiful garden designs. The shapes and colors of the flowers complement each other. The flowers all have the same light, moisture and soil requirements. Mother Nature knows what she's doing when she combines plants. Follow her lead when you design your own flower gardens.
Secret Hideaway Garden
Most flowers stay to heights below 4 feet. There are exceptions. Plant a flower garden with very tall flowers or vining flowers that hide a play area for children. Children love to play hide and seek. Plant a square of sunflowers leaving a two foot opening in the back of the square for children to enter and exit. Surround the sunflowers with hollyhocks and then cosmos. Sunflowers grow from 6 to 10 feet tall, hollyhocks from 5 to 7 feet and cosmos up to 5 feet. Set a child size picnic table and benches in the middle of the square right after planting the flowers. They will grow up and hide the table.
Yin and Yang
Flowers in geometric patterns are interesting as a small flower bed. An entire yard of different patterns would be overwhelming and too busy. Try concentric circles with white separating each circle. A spiral is intriguing or build an Independence Day Flag flower bed with red, white and blue flowers. Keep the variety of flower all the same through the pattern so there aren't differences in heights or flower shapes. If the flower is the same, they'll all bloom at relatively the same time as well. Choose flowers that have masses of blooms, like petunias, lobelia, alyssum, or small to medium height zinnias.
Edible Flowers
Many flowers are edible and add a bright note of color and flavor to dishes. Segregate the edible flower garden from the rest of the flowers. You don't want to spray them accidentally with insecticide or pesticides. Edible flowers include carnations, chrysanthemums, bachelor buttons, pansies, geraniums and roses. There are lots of others. Plant for a successive bloom from spring to fall. Don't eat a flower if you're not positive it's edible. Daffodils, for example are poisonous. Most flowers have a delicate flavor that's ruined by heat, so add them at the last minute or use as a garnish when cooking.
Moonlight Garden
White pops at night glowing in the moonlight. The flowers float above the greenery of bushes and other plants which fade into the darkness. Choose flowers that are not only white, shades of cream or very pale yellow but also those that don't require sunlight to stay open. Flowers like gazanias and African daisies close up without sunlight. Choose from gerbera daisies, shasta daisies, alyssum, violas and geraniums, all white of course.
Fragrance Garden
While there are a few flowers that smell unpleasant, most flower scents are heavenly. Plant a garden that is scented all season long. Start with hyacinth bulbs and narcissus in the spring, followed by lilies, gardenia, nicotania, angel's trumpet, jasmine, lilacs and of course roses throughout the summer and fall.