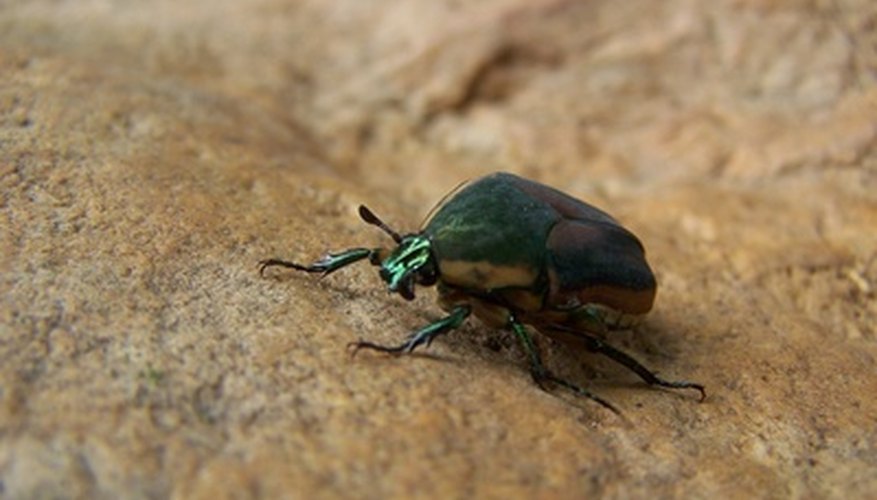 Grubs emerge into the soil in early summer and munch their lives away until spring, when they emerge as adult beetles. But grubs do the bulk of their damage in their fall when they are the largest. If you brush away the grass in one of their tell-tale brown patches in your lawn, you are likely to see them feeding. And you won't be the only one who knows they're there. Grubs attract skunks and other predators that will tear up your lawn in search of a nutritious snack. But your children and pets enjoy your lawn too, so you should avoid treating it with toxic chemicals. A simple homemade garlic insecticide will kill the grubs in your lawn and keep wanted visitors safe.
Press five garlic cloves with a garlic press.
Spread the garlic mash out on a flat surface and allow it to dry out completely.
Crush the dried garlic into a powder with a mortar and pestle.
Add 2 teaspoons of water to the garlic powder and let it stand for two hours.
Add the two tablespoons of garlic water to 2 quarts of water. Mix the solution well and strain it through cheese cloth and into a glass sprayer (do not use metal; it will react with the garlic).
Spray the garlic solution on a small, inconspicuous section of the lawn in the evening. Then put the garlic solution in the refrigerator and wait for 24 to 48 hours. Check the grass again. If there is no damage, move on to treat the lawn. If there is damage, dilute the solution with another cup of water.
Spray the infested part of your lawn in the evening. Thoroughly soak the soil with the spray.
Reinspect the treated area. Dig up a 6-inch-by-6-inch plug of grass. If you spot grub activity, make a new batch of garlic spray and treat the soil again.
Things You Will Need
Garlic

Garlic press

Water

Glass spray bottle

Mortar

Pestle

Cheese cloth