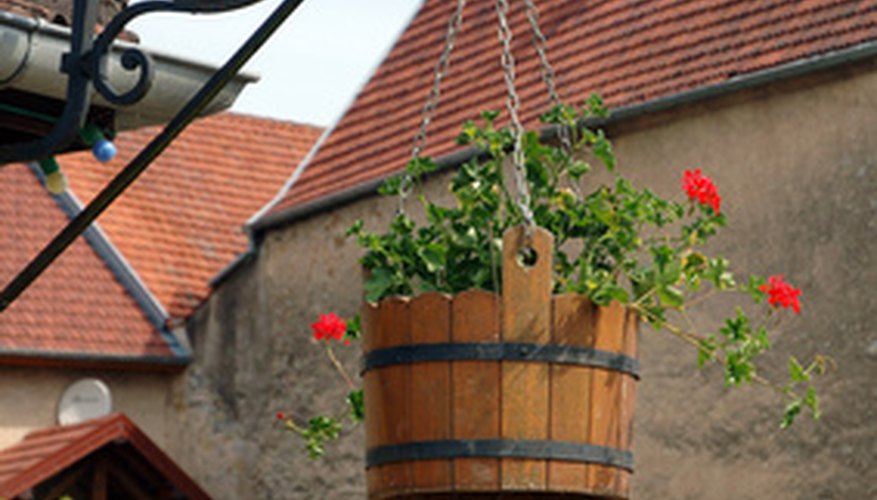 Wooden planters provide a natural material for your patio or garden. As the wood ages, the planter will blend into the natural surroundings. Wood comes in a variety of colors and can also be painted or stained to match the other materials in your garden. For a twist on the traditional square or rectangular planter, opt to make one in a hexagon shape.
Determine the size planter you need based on the plants you are going to use. Consider the full maturity size of the plant when calculating how big you need to make the planter. Also decide whether you plan to build more than one. If you plan to make several, purchase enough material to build them all at one time since this will save you time. Choose a weather resistant wood such as cedar or cypress. Both of these repel water and cedar is especially pest-resistant, which is important in outside planters.
Measure the 2-by-4 lumber using a tape measure and mark the spot where you need to cut with a pencil. Since the planter will be hexagonal, cut each end at a 30-degree angle so they will fit together during assembly.
Place the first piece of wood flat inside the miter box taking care to line up your mark with the corresponding 30-degree angle markings. Cut both ends of each piece of wood using your hand saw. If you are building just one planter, you should have 18 pieces of 4-inch-wide wood once you are complete. Otherwise, continue to cut until you have enough pieces to build the desired number of planters.
Run a bead of glue on the end of one piece and firmly attach to another. Continue until the first six pieces are glued together in a hexagon shape. Repeat with the next set of six and the final set until all are glued. Let them sit for approximately one hour so the glue can adhere well. Measure and mark a hexagon then cut the bottom from plywood while the glue is drying on the 2-by-4s. It should be the same size as your completed hexagons made from the 2-by-4s.
Screw the plywood bottom onto one of the hexagon shape 2-by-4s using wood screws at each of the six points. Flip over and screw the second layer of 2-by-4s into the one already attached to the plywood bottom. Repeat with the final shape so all three are layered and attached to the plywood bottom. Paint or stain as desired.
Things You Will Need
2-inch by 4-inch lumber

Plywood

Hand saw

Tape measure

Wood glue

Screwdriver

Stainless steel wood screws

Miter box

Paint or stain (optional)
References
Resources