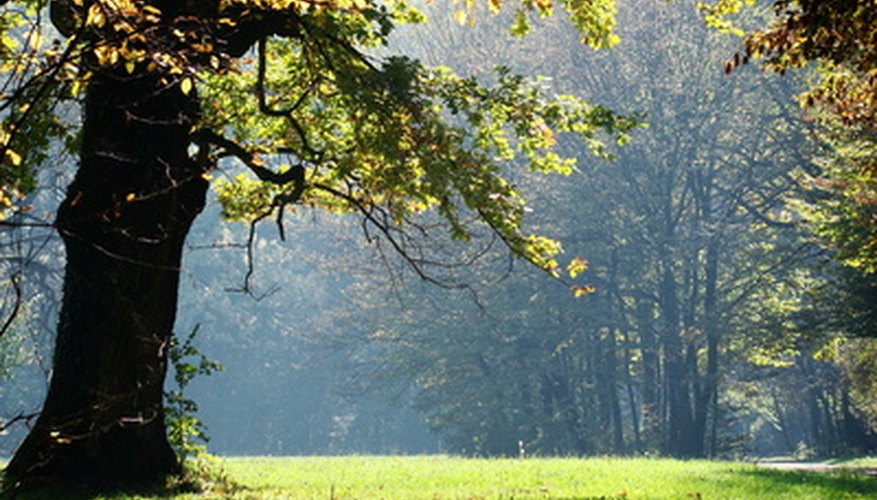 Texas might well be the land of trees, boasting at least 255 species of native trees alone. Of that number, more species of native oak--at least 39--grow in the state than any other tree. These stately trees grow in just about any terrain, including the acidic soils in eastern Texas, the alkaline soils of the western part of the state and the high altitudes of the mountains. For gardeners, this means at least one variety of the tree fits just about any landscape.
Varieties
Native oaks come in several sizes including five dwarf varieties classified as shrubs. Twenty-four species of white oak trees also grow in the state with these trees producing acorns yearly. Fifteen species of black oaks grow in Texas with these trees requiring two years to grow mature acorns.
Description
The stately, twisted limbs and trunks of the oak tree make it a much desired addition to almost any Texas landscape provided the tree has enough room to grow. Oak trees vary in height, growing to less than 30 feet tall all the way up to more than 80 feet in height and width. Some oaks are live oaks; their leaves stay green all winter. The rest are deciduous trees with their leaves falling off in late fall or early winter. Most oak trees produce acorns, a fruit anywhere from one-half inch to more than 2 inches in length. New trees take up to 20 years before they produce any acorns.
Historic Trees
Texas boasts a variety of historic oak trees including the Dueling Oak in Jackson County. This oak tree provided the shade during a duel between Albert Sidney Johnston, Commander in Chief of the Army, and General Felix Huston. In the end, Huston won the duel, with Johnston eventually recovering from his wounds.
Largest Live Oak Tree
One of the largest live oak trees on protected land was discovered in the San Bernard National Wildlife Refuge, about an hour south of Houston. The tree measures more than 32 feet in diameter and 67 feet in height with the crown spreading 100 feet as of 2010. This tree far outsizes the previous live oak champion, a tree found at Goose Island State park near Rockland.
Wildlife
Squirrels remain the most well-known acorn hunter. Birds also get in on the acorn action with blue jays, pigeons, and even some ducks enjoying the fruit from the oak trees. Woodpeckers also eat acorns, with many of these birds hiding the nuts for winter use. Deer and bears also find the nuts to be an important food source in Texas.