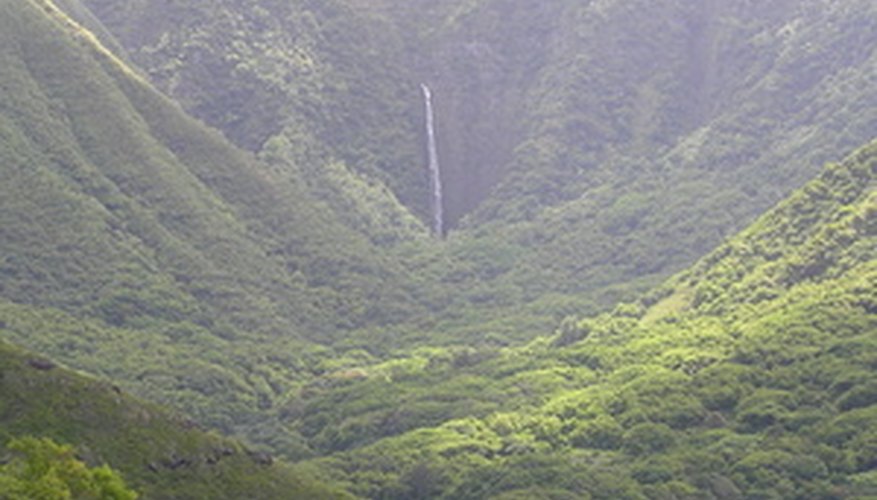 Hawaii's native plants produce some very unusual and lovely flowers. Unfortunately, their beauty hasn't been widely appreciated because of their dwindling habitats. Renewed interest in Hawaii's native flora has contributed to an increasing trend of growing them in home gardens and landscapes. Recent legislation even allows the cultivation of some endangered species. Whether you take a hike to visit them in their native habitats or purchase some to grow in your garden, Hawaii's flowering plants never fail to delight.
Wet Forest Plants
Painiu (Astelia spp.) is one of the few representatives of the lily family in Hawaii's flora. This plant has slender, silvery leaves and grows on the forest floor or as an epiphyte, attached to tree branches in wet forests. Painiu produces stout spikes covered with small flowers, from yellow to purplish red, enclosed by bright red orange bracts. A very attractive head lei was traditionally made from the silvery leaves, which was worn as a sign that a person had visited Kilauea Volcano.
Panaunau (Lobelia spp.) is the Hawaiian name given to thirteen endemic species of the genus lobelia. In Hawaii, lobelias have evolved to fill many niches in wet forests and look quite different from their relatives in other parts of the world. Panaunaus are tall growing shrubs to small trees, composed of bare, woody trunks, topped with bushy rosettes of leaves. Each species produces slightly different, brightly colored, tubular flowers, which are perfectly shaped to fit the beaks of specific nectar feeding native birds. The entire genus is threatened or endangered.
Dry Forest Plants
The Pua Kala (Argemone glauca) is one of Hawaii's few thorn-bearing plants, suggesting it may be a fairly recent arrival. A member of the poppy family, this low-growing, dry forest resident bears large, white, papery flowers with yellow centers, which resemble Oriental poppies.
The endangered wiliwili (Erythrina sandwicensis) is a tall, gnarled tree, native to Hawaii's dry forests. It bears clusters of pretty peach, yellow, orange, white or light green flowers, which look like clumps of butterflies on the branch ends. The wiliwili drops its leaves at bloom time and during periods of prolonged drought, leaving a striking silhouette.
Coastal Plants
Ohai (Sesbania tomentosa) grow in many forms, from small trees to prostrate shrubs, in coastal environments. This plant has light green, hairy, compound leaves, some of which smell like nectar or ripe peaches. Ohais bear beautiful, sweet pea-shaped flowers in salmon, yellow, orange and red. They are endangered due to loss of coastal habitat but do quite well in cultivation.
Maiapilo (Capparis sandwichiana) is a low shrub found on rocky outcrops in coastal areas. This endemic relative of the caper plant produces showy flowers with delicate white petals surrounding many stamens, which open just after dark and gradually turn light pink. The flowers are highly fragrant but eventually develop into foul-smelling orange berries.