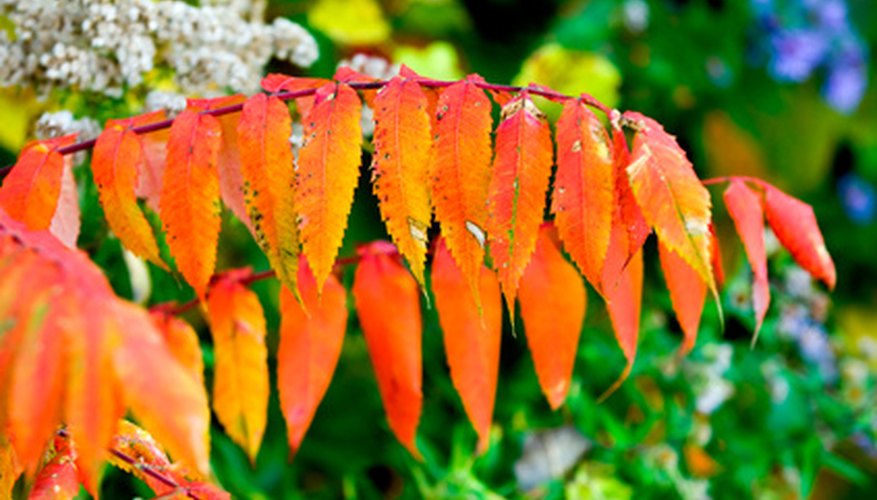 Perennial shrubs are the cornerstone of any garden or landscape. These versatile plants can be grown as hedges, small trees, privacy screens or even as a stunning centerpiece in the garden, as is often the case of many showy flowering shrubs. Home gardeners who wish to plant shrubs in locations that receive full sun should be careful about which shrubs they choose, as some have fragile leaves that can be scorched by the intense rays of the afternoon sun.
Smooth Sumac (Rhus glabra)
Smooth sumac is a large shrub that can grow up to 20 feet tall, making it an excellent barrier or privacy screen. This plant is also cold hardy to United States Department of Agriculture (USDA) growing zone 3. The shrub features long, graceful leaves that turn bright orange or red in the fall. Smooth sumac is excellent for dry, hot locations and can be trained to grow as a shade tree.
European Cranberry Bush (Viburnum opulus)
Viburnum shrubs are known for their ease of care. Some varieties grow well in partial shade, while others thrive in full sun. European Cranberry is a variety that thrives in full sunlight and hot, dry soil. In the spring, the plant produces masses of tiny white flowers, and in the fall, dramatically red berries and leaves. This medium-sized shrub can grow up to 13 feet tall and is hardy in USDA zones 5 through 9.
Japanese Rose (Rosa rugosa)
Japanese rose is a medium-sized perennial shrub that will reach a maximum height of around 6 feet. This plant features either red or white flowers in the spring, and beautiful, bright red fruit and orange leaves in the fall. Japanese rose prefers a minimum of six hours of sunlight per day and can tolerate almost any type of soil, even poor, dry rocky soil. These are hardy plants to USDA growing zone 2.
Mugo Pine (Pinus mugo)
This evergreen, needled shrub can grow to heights of 30 feet, but it tolerates shearing extremely well and is often grown as a hedge. There are also varieties that have been cultivated to grow lower. The mugo pine is very hardy and thrive in locations where it can receive a full day's worth of sunlight. This shrub is hardy in USDA growing zones 3 through 7.