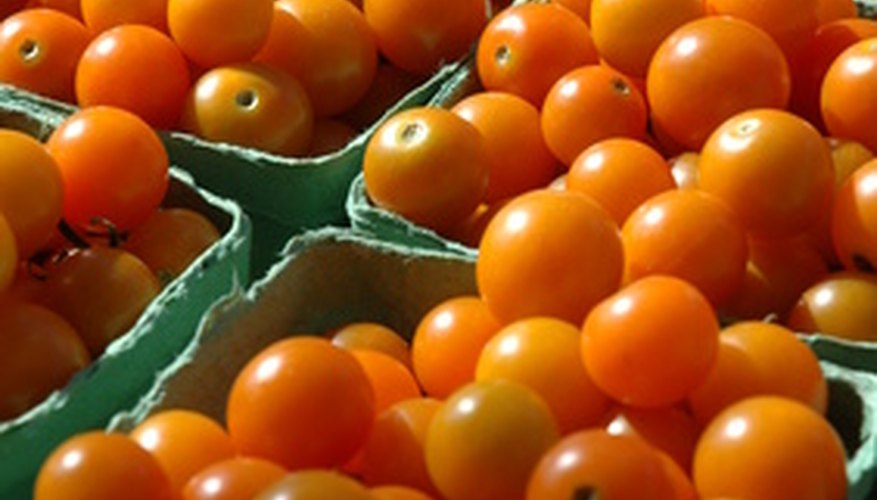 Tomatoes are the most popular vegetable in home gardens, according to the University of Illinois. The Juliet tomato (Lycopersicon esculentum) is a small-fruited, grape-like variety, cherry tomato that is a bountiful producer. It is a favorite among home gardeners because it is easy to grow, and unlike many tomato varieties, will not crack or split while still on the vine.
Arrange 3- or 4-inch wide peat pots in a watering tray.
Scoop a quality seed-starting mix into the peat pots until each is within about 1/4 of an inch from the top.
Pack the soil down firmly in each peat pot. Saturate the germinating media with water.
Place two to three Juliet tomato seeds per peat pot. Push the Juliet tomato seeds into the media using a pair of tweezers or the blunt end of a pencil. Sprinkle approximately 1/4 to 1/2 inch of the germinating media over the top of the Juliet tomato seeds.
Place the tray containing the peat pots into a warm, (65 to 75 degrees F), brightly lit environment. Provide between 10 and 12 hours a day of indirect light. Place the tray of peat pots about 3 to 4 inches from a florescent light if you do not have an adequate source of natural light.
Check on the peat pots at least once a day. Keep the germinating media in the peat pots moist but never dripping wet. Sprouting of the seeds should begin within five to 10 days.
Cut off at the soil line all but the hardiest Juliet tomato seedlings to leave one seedling per peat pot. Transplant the Juliet tomato seedlings once they have two to three sets of leaves and night time temperatures that will remain above 50 degrees F.
Transplanting Juliet Tomato Seedlings
Dig up the planting area to about 10 to 12 inches deep. Plant in area that can provide the Juliet tomato plants with full sun.
Mix into the soil in the planting area a 5-10-5 fertilizer at the rate of 2 to 5 lbs. for every 100 square feet of planting area.
Pour between 3 and 4 cups of water into the tray and let the Juliet tomato seedlings soak up the water.
Dig planting holes that are large enough to accommodate the width and depth of each peat pot. Space each planting hole between 15 and 24 inches apart.
Set a Juliet tomato seedling into a previously created planting hole. Fill the hole full of soil.
Feed each of the Juliet tomato seedlings with a mixture of water and a starter fertilizer such as 10-34-0 or similar. Follow the instructions on the label for dosage and mixture ratios.
Water the Juliet tomato plants regularly before the soil is allowed to dry out. Harvest of Juliet tomatoes typically is between 60 and 70 days after planting.
Things You Will Need
Juliet tomato seeds

Peat pots

Germinating media

Watering tray

Sprayer bottle

Scissors

Trowel

Starter fertilizer