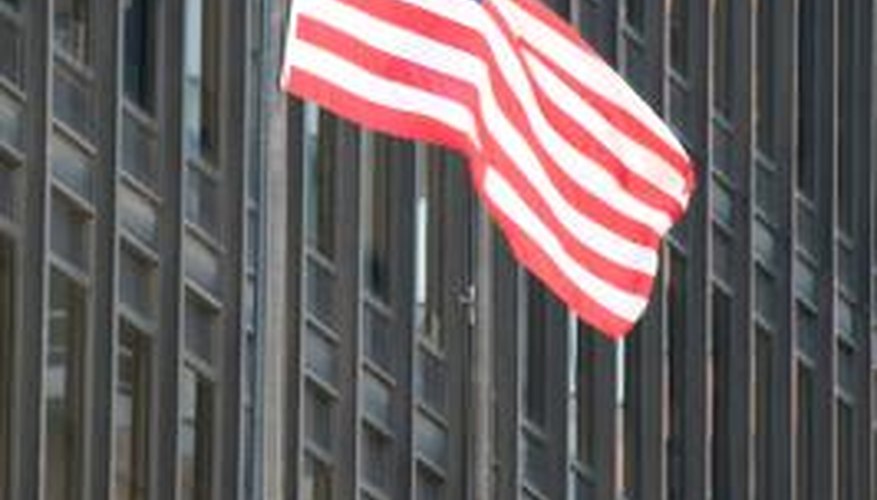 Step 1
Find the right location to install your flagpole. Make sure you are at least 15 feet away from any overhead wires.
Step 2
Dig a hole with your post-hole digger. Make the hole twice as wide as the ground sleeve and exactly as deep. Once you have made the hole, use your shovel to make the bottom of the hole a few inches wider than the top, to prevent the frost from pushing up on the concrete block.
Step 3
Fill the bottom of the hole with 2 inches of crushed rock. Then place the ground sleeve into the middle of the hole. The top of the sleeve should extend above the ground by about 2 inches.
Step 4
Combine your pre-mixed concrete with water in your wheelbarrow. Use a ratio of concrete and water based on the directions on your bag of concrete.
Step 5
Pour the concrete around your sleeve. When you are a few inches from the top, place a level across the top of the sleeve and then inside of the sleeve, to ensure the sleeve is perfectly straight. You can make any necessary adjustments while the concrete is wet.
Step 6
Continue to add concrete until you reach ground level. Place just 1 more inch of concrete directly around the sleeve. Use your trowel to slope the concrete down from the sleeve. This will prevent water from pooling around your flagpole. Wait at least 24 hours for the cement to set before you continue.
Step 7
Slip the flash collar, which will sit around the base of the pole, onto the pole itself. If your pole requires that you install pulley hardware, do so now. Most hardware will be installed by driving the supplied screws through 1/8-inch drill holes in the pole. Once all hardware is installed, move the base of the pole over to the sleeve.
Step 8
Lift the pole upright as you slide it down into the sleeve. Place your level against the side of the pole and jam wood shims between the pole and the sleeve until the pole is level. If your pole tapers off, be aware that the bubble on your level will not be centered even if the pole is level, but will remain in the same position as you move the level around the pole.
Step 9
Fill the rest of the gap between the pole and the sleeve with sand and tamp it down. Then lower the flash collar to the ground.