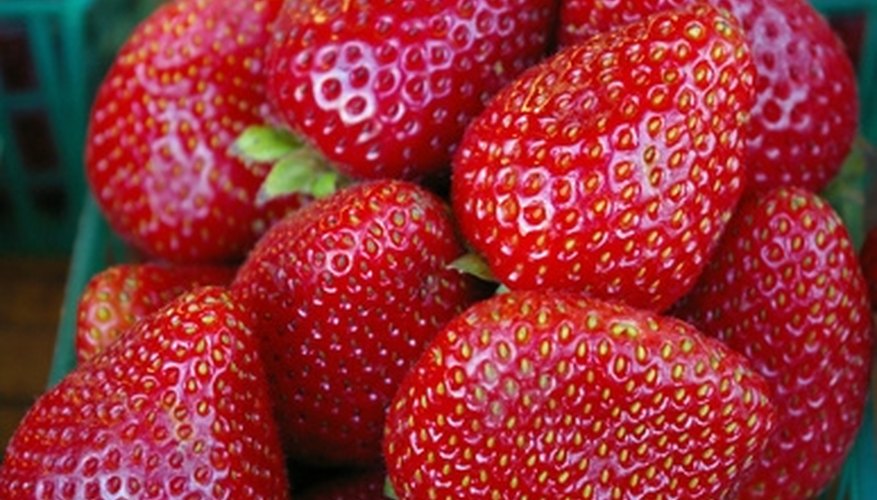 Use a measuring tape to mark six of the cedar fence boards at the halfway mark. Measure in 4 feet from one end and mark with a marking pencil. Cut each board along the mark with a circular saw. This will produce 12 fence boards that are 4 feet long.
Use a drill with a 1 1/2-inch drill bit to drill holes in the 12 fence boards. In eight of the boards, drill a hole 3 inches from the top and bottom and one in the middle. These are the outer boards for each of the four sides of the strawberry tower. Drill three holes in the remaining four boards that will occur between the three holes of the outer boards in a staggering pattern.
Measure, mark and cut two more boards in half to obtain four boards that are 4 feet long. These are the vertical support boards for the tower's framework. Measure, mark and cut four pieces of board 15 inches long each. These are for the top of the inner framework. Measure, mark and cut four pieces of wood 20 inches long for the bottom of the framework.
Arrange two of the 20-inch boards on the ground so that one end of one board touches the other 4 inches from the end of the first board. Screw three screws into the junction. Add a third side in the same manner with 4 inches extending past the junction. Add the last 20-inch board and drill each together in the junctions. Set the complete base on four concrete pads.
Stand up two of the 4-feet long boards so that they are 4-feet tall inside the base frame at two corners of one wall. Attach a 15-inch board between the two with two screws at each junction of wood. Insert another 4-foot long board perpendicular to the first two standing up at the next corner. Attach a 15-inch board at the top with screws to hold it in place. Add the fourth corner using the same method.
Screw a corner outer board with holes at the top, bottom and middle to the outside of the top frame with the bottom of the outer board inside the bottom frame. Screw it to the top and sides framework. Screw a middle board next to it and another side board. This covers one side completely. Continue this method for the other three sides of the tower.
Use a paintbrush to paint all exterior boards with a waterproof stain for a long-lasting project. Fill with soil, plant strawberry plants in each hole in the sides, and add several plants in the top of the planter