Three- and Five-Piece Slate Tables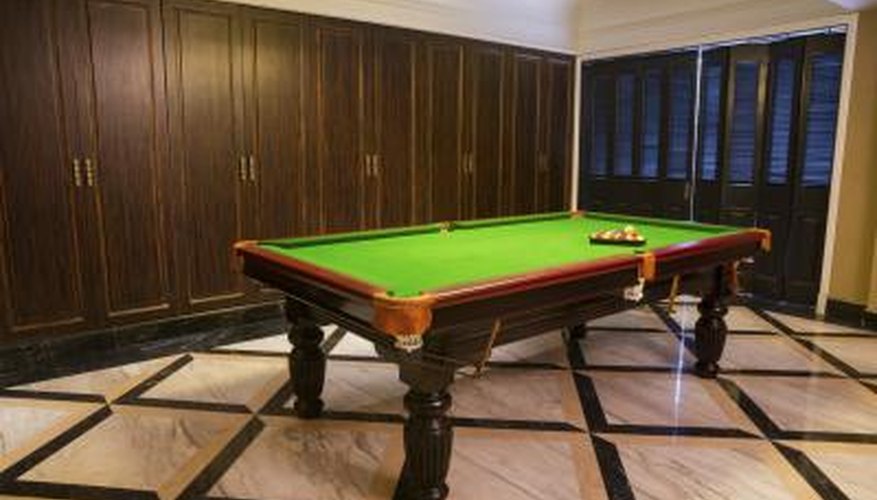 Step 1
Disassemble the rails and the pockets. Look for the screws holding them on the underside of the table and remove the screws with a Phillips screwdriver. Store the screws in a container; label each part of the rail as you remove it. Wrap each part in newspaper to protect it.
Step 2
Remove the felt. If the slate is attached to a plywood or MDF frame, the felt is usually stapled to the frame. Pull out all the staples carefully, using a flat-head screwdriver and a hammer. If the slate is unframed, the felt is usually glued. Pull it off carefully, but don't be surprised if it tears. It's best to replace it anyway.
Step 3
Unscrew the slate screws holding each section of slate to the table frame -- also called the cabinet -- using a screwdriver. Lift each section off the table and wrap it in in a moving blanket before transferring it to the moving vehicle and laying it flat. It will take several people to lift each section.
Step 4
Separate the legs from the cabinet by unscrewing the bolts with a wrench. Disassemble the cabinet, if it comes apart. If it doesn't, move it as a unit.
Step 5
Reassemble the cabinet in the new location, attach the legs and level the cabinet, adjusting the lengths of the legs or placing shims under them, as needed.
Step 6
Set the slate sections in place and level them with shims. This is a precision job for which you should hire a professional. The levels of the sections must match within a tolerance of .005 inch per square foot, and the seams in between must be sealed with beeswax to ensure a level playing surface.
Step 7
Reattach the felt, stapling it to the slate frame with a staple gun. If the slate has no frame, attach the felt with adhesive -- probably another job for a pro.
Step 8
Attach the bumpers and pockets in the order you removed them to complete the reassembly.
Single-Piece Slate Tables
Step 1
Remove rails and pockets, label them and store the fasteners in a safe place. Take off the felt by removing staples. If it's glued, you may want to leave it attached. If not, tear it off.
Step 2
Lift the slate, wrap a blanket around it and transport it to your vehicle. The slate of a single-piece table is heavier than one section of a three-piece table. You will need several strong individuals to lift and carry it.
Step 3
Disassemble the cabinet or move it as a unit.
Step 4
Set up the cabinet in the new location and set the slate on top. Level the table as a unit by adjusting the legs or putting shims under them. You can also place shims between the slate and cabinet as necessary.
Step 5
Reattach the felt or install new felt, then attach the rails and pockets.