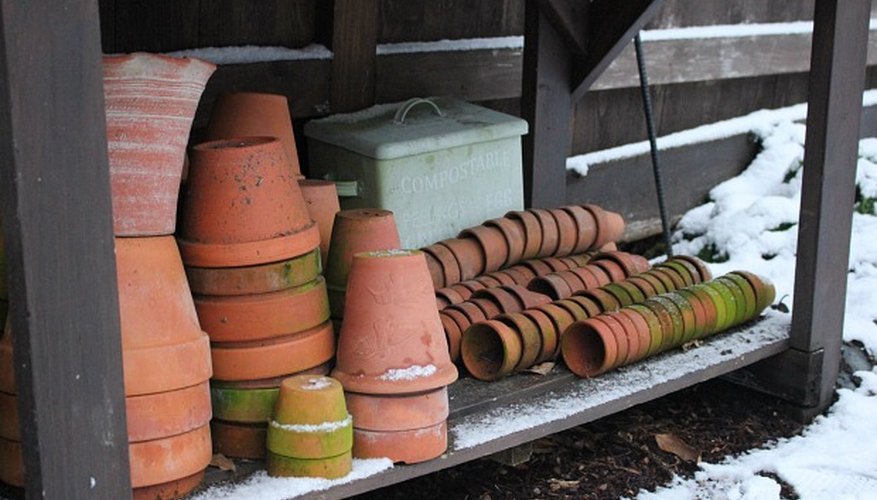 If there is one thing I have a serious weakness for, it's flower pots. In fact, I don't think I've ever met one I didn't like. Luckily, I live in the Pacific Northwest. Our temperatures dip below freezing only a few times per year, so I don't have to worry too much about my pots cracking.
But according to the peeps at The Old Farmer's Almanac, this winter is expected to be colder than normal, so I thought I would share some of my tips for winterizing pots and planters before it's too late.
Terra-Cotta Pots and Planters
Empty terrra-cotta pots at the end of the season, and give them a good scrub (I like to use a solution of 10 parts water and 1 part bleach) before setting them out to dry in late fall. This gives them a chance to dry out before the cooler weather arrives.
Ideally, it's best to store pots somewhere away from excessive moisture, such as in a garage or covered porch, because if they get too wet and a hard freeze comes along, chances are your pots will crack. Stacking the pots upside down will also help keep water from getting into your pots and causing cracking.
Ceramic Pots and Planters
Ceramic pots are most vulnerable to cracking in the winter months due to the cold temperatures, so I take extra care with mine each fall. Just like with the terra-cotta pots, you'll want to remove all the soil, give them a good scrub and if possible store them upside down in a garage or a basement.
However, if you would like to keep your beloved plants in their pots during the winter months, simply wrap your pots in burlap or bubble wrap to help insulate them a bit from the harsh winter weather. Placing your pots along a south-facing wall (to get more sun) may help protect your plants too.
Plastic Pots and Planters
If you have a patio full of plastic pots, well then, lucky you, because plastic pots can be left out all winter. Wahooo! Just don't go jumping up and down on them during an ice storm, or they could shatter into a million little bits. Not that I would know anything about that, of course.
Protect your investment and winterize your pots and planters.
Keep calm and garden on,
~Mavis
All photos courtesy of Mavis Butterfield