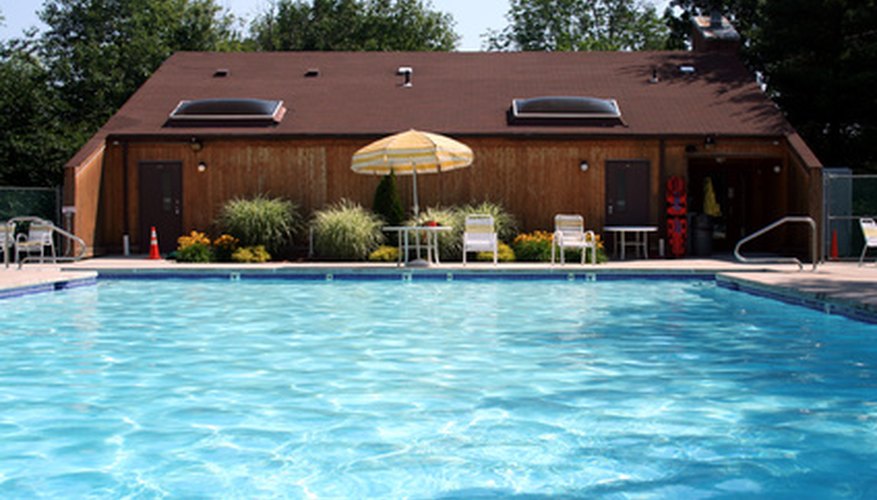 The Hayward Navigator is an automatic pool cleaner that is attached to a pool's filter system. It navigates the surface of the pool using a programmed steering system and cleans the surfaces by sucking up debris that is passed through a hose and collected at the pool's filter or filter pump strainer basket. Problems may occur and it is always worth troubleshooting the device yourself before making a potentially expensive service call.
Identifying the Problem
You should first identify the general type of problem you are experiencing. If the cleaner is not moving along the interior pool surfaces as it should, this problem will probably have a different solution than if it were climbing to the water surface or the cleaner head were lifting away from the pool surface.
Checking Water Flow
The flow of water through the cleaner is what makes it move, and issues with the flow may be the cause of several different problems. The cleaner has a "Flow Gauge" and the black disk on the gauge should be in the box between the "MIN" and "MAX" markings. If it is not, the water flow may need to be regulated with valves. The exact type will depend on the pool's filter system.
Restricted Movement
Worn shoes or wings may cause the cleaner to move slowly or stop moving at all. They may also prevent the cleaner from climbing vertical surfaces. The wings and shoes can be replaced as required. A blockage in the cleaner's throat can cause restricted movement. If the hose connecting the cleaner to the filter system is too short, this may physically stop the cleaner from moving.
Cleaner Climbs to Water Surface
Improper water flow or a problem with the tension of the rear flap may cause the cleaner to leave the interior pool surfaces and climb to the water surface. The rear flap has a simple adjuster that can be turned to three different settings. This problem may also be caused by a problem with the cleaner's steering. The rear screen should be cleaned and the cone gear should be free from obstruction and able to rotate smoothly.
Cleaner Head Rises
If the cleaner head appears to "float" from the bottom of the pool, this may be caused by improper water flow or trapped air. If the cleaner head and hose are covered in small bubbles, a sharp tug on the hose should release the air bubbles and allow the head to settle back to the bottom of the pool.