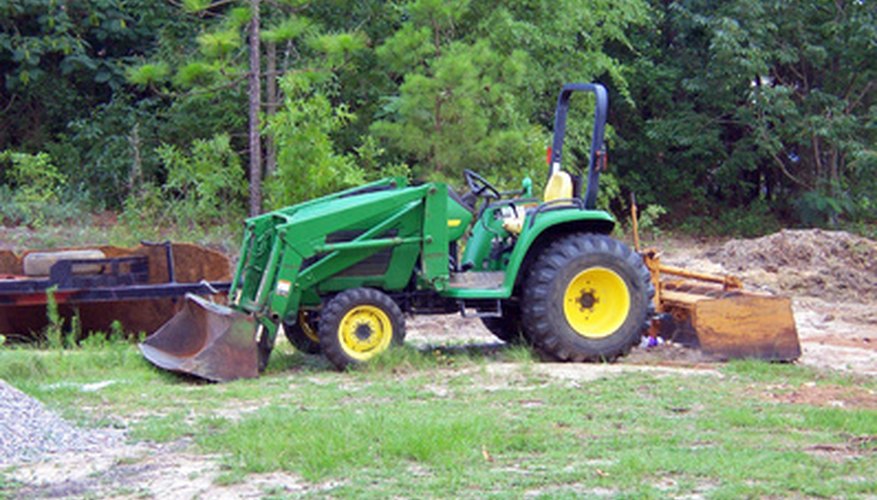 John Deere has earned a reputation among its loyal customers for giving long-term support to its products, keeping parts and documentation available for models that are decades old. However, given the wide variety of the company's agricultural, lawn and garden and construction equipment, finding parts and information for a repair on your particular piece of John Deere equipment can be a daunting task. Here are some ideas that will streamline the process.
Know The Secret Code
Learn the important identifiers for your equipment. Each product has a model number and in most cases a serial number. Both of those numbers are vitally important to finding the right parts for your piece of equipment. They will tell a well-trained John Deere parts employee when your equipment was manufactured and what options were built into it at the factory. It is important to note that some sub-components are separately identified. For example, a lawn and garden tractor model may have several mowing decks available, each with a different model number. So if you need new blades, merely knowing that your tractor is a model 455 will not be sufficient. You will need to know whether you have the 48-, 54- or 60-inch mowing deck.
Read the Manual
Use and carefully protect the product documentation for your equipment, and know what documentation is additionally available. Each product includes an owner's manual that outlines safety considerations, general operating guidelines and maintenance procedures. You can solve basic issues by spending a few minutes going over the owner's manual. However, the manuals do not delve into the details of actual repairs. Most John Deere powered equipment also has a service manual available for purchase. The service manual goes into explicit detail on the repair of virtually every component. Service manuals are not inexpensive--more than $100 for most tractors--but if you feel comfortable performing more than basic maintenance on your equipment, it can be a worthwhile, money-saving investment. John Deere offers most of its service manuals on CD-ROM at about half the cost of the paper versions. You can order them at your local John Deere dealer or directly from John Deere Technical Publications online.
An Ounce of Prevention
Follow maintenance procedures carefully. Just like football coaches say, the best offense is a good defense. Taking care of your equipment goes a long way toward preventing costly repairs down the road. Change the oil at recommended intervals. Clean or replace air filters at recommended intervals, or more often in dusty or otherwise difficult conditions. Grease frequently. Use protective caps on hydraulic fittings, and wipe fittings carefully before attaching hydraulics.
Be Realistic
Evaluate repair approaches carefully. If your equipment is under warranty, contact John Deere for service. When you're faced with something that needs repair beyond the warranty period, realistically evaluate your skills and equipment before you decide whether to tackle the repair or call in the pros. Do you have the necessary tools and supplies? Do you have the space available, particularly if the repair will take an extended time? Do you have the service manual to guide you through the process? The answers to these questions will help you decide whether to roll up your sleeves or pick up the phone.