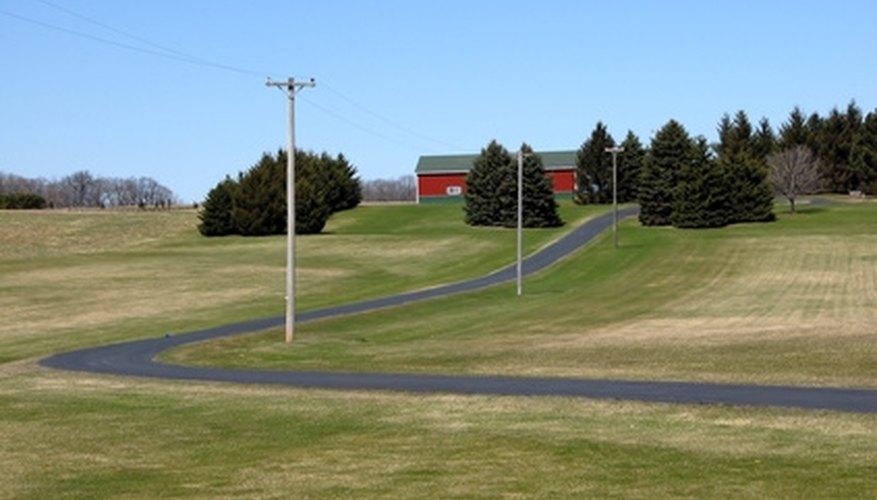 There are proper methods for repaving asphalt driveways. Asphalt is a mixture of rock, sand, tar and bitumen. Bitumen is a by-product remaining after the refining process of crude oil. Bitumen is also being made from renewable resources like sugar, corn and potato starches. The bitumen made from the renewable resources is lighter in color and more resistant to sun damage.
Considerations
An asphalt driveway is only as strong as the sub-base of the area where the driveway is installed. The sub-base is the soil that is the support beneath the layers required for an asphalt driveway. Clay type soils are weak and allow the new asphalt driveway to deform under heavy loads. Check with your local agricultural extension office to consult maps that detail what type of soil is in your area and inform you of its strengths and weaknesses. Soil that drains poorly or retains water will weaken asphalt driveways and lead to failure. Consider having drain tile installed beneath the base to prevent the softening of the soil. In some instances, a layer of protective fabric installed on top of the soil will stop the soil base from mixing with the gravel, which causes it to become soft and weak. Soil is compacted before the gravel base applied to a minimum depth of six inches.
Repaving Asphalt Driveways
Repaving asphalt driveways may require the removal of an existing driveway. The underlying soil is compacted and graded for drainage. A slope of one-quarter inch per foot will ensure that water will not puddle on the new driveway. Tim Carter of Ask the Builder.com, recommends the use one of two bases for your driveway, a six inch layer of gravel or an asphalt base. An asphalt base consists of larger aggregate mixed into asphalt; this layer does not have to be as deep as a gravel base. This type of base is a good choice if the soil in your area is clay or you anticipate heavily loaded trucks utilizing the driveway. The finish layer will have smaller aggregate and a coarser grade of sand mixed in. A tack coat of asphalt is sprayed over the first layer before the top coat is added. The tack coat is the "glue" that bonds the two layers of asphalt together. The driveway is then rolled with a heavy roller to ensure bonding and smoothness to the finished driveway.
Maintenance
You should reseal your new driveway after one year using a high quality commercial sealer. Check the sealer to be sure that it is a bituminous water emulsion. If your driveway is sloped use a sealer which contains sand. Sealers are coatings similar to paint, if the sealer is applied too often or too thick the driveway will crack and peel. Driveways require sealing when they show obvious wear and the surface color lightens. In non-traffic areas of the driveway do not apply the sealer to thick; thick areas will crack and peel faster.