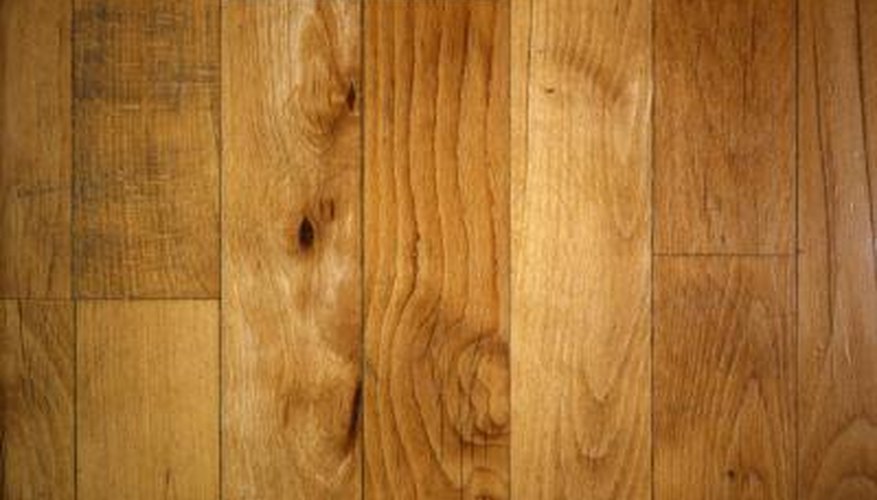 Installing hardwood floors over a concrete slab beautifies the concrete while adding value to the home. If the concrete is properly prepared, you can install a hardwood floor directly onto the concrete without a subfloor. Choose a hardwood that complements your decor, and combine it with tile or carpet as desired on your concrete slab.
Preparation
Start preparing your concrete slap by patching any cracks and filling flaws in the floor. Remove loose particles from the cracks or flaws with a chisel, and clean the entire slab with a broom and shop vacuum. Prepare a patching compound according to the manufacturer's instructions and apply it to the flaws with a trowel. Scrape the patching compound to level it against the surrounding concrete, and remove the excess. After the compound has dried, check the slab for levelness by running a long wood board over its surface. Mark high and low spots with a carpenter's pencil.
Reduce high spots using a hammer and chisel, or grind them down with a power grinder with a masonry blade attachment. Fill low spots with a patching compound, applied and scraped even with a trowel. After the major high and low spots have been leveled, use a concrete leveler poured over the entire floor to correct high and low spots that remain. Allow the leveler to dry according to the manufacturer's instructions.
Flooring Installation
When you install hardwood flooring, choose planks or strip flooring that can either be glued down or floated. Bring your boxes of flooring inside and keep them in the room in which they will be installed for a few days before installation, to prevent shrinkage or warping due to temperature and humidity adjustments after installation.
Make sure your concrete slab is completely dry. Wait several days after patching or application of a leveling compound to install your hardwood flooring. Floating floors may require a moisture barrier such as plastic sheeting to be laid down before installing the floor. Leave a 1/4-inch gap between the floor and the walls to allow for the natural expansion and contraction of the wood due to changing temperatures. Quarter-round moulding around the perimeter of the room helps to cosmetically bridge the gap between the flooring and the baseboards.
Tips
Choose hardwood floor planks with an insulation backing to help keep your floor a more even temperature throughout the year. In the winter, hardwood floors can get very cold installed directly on a concrete slab. Underlaying radiant heat may damage the floor since natural wood expands in warm temperatures and contracts during cold temperatures.
Choose pre-finished hardwood for quick installation. If you need to finish the hardwood after installation, apply three to four coats of polyurethane sealant for protection after staining.