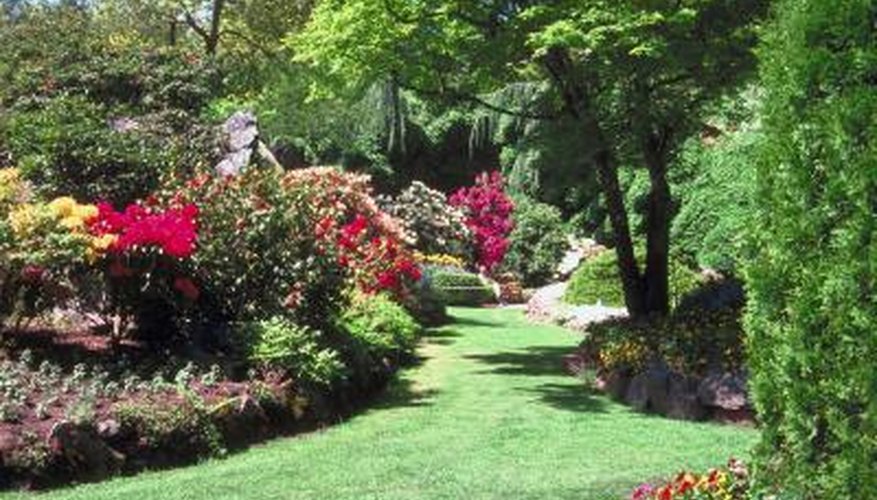 Even the most basic landscape edging material makes a lawn look crisp and well-maintained. The edging separates the lawn from flower beds and keeps soil and mulch from encroaching into grassy areas. Design easy landscape edgings from a variety of materials, such as stone, plastic, wood or bricks. Even recycled materials can be repurposed for edgings and garden borders. Success with any landscape edging project starts with just a little planning.
Install Landscape Edging
Plan where to put the edging. Mark the area with a can of spray paint or use the garden hose to imitate the shape of the edging. Measure the area to determine how much edging material to install.
Material
Decide what kind of edging material you want. These include inexpensive plastic or a more durable steel edging that serves the purpose but does not add much decorative value. Brick or preformed concrete edgings give a more formal look to the edging. Wooden stakes lend a rustic air, but will succumb to the elements sooner rather than later. Stone and pavers add a formal air to beds and borders. Invest in a quality, commercial grade edging material, whichever one you choose.
Ground Preparation
Use a shovel to dig a trench along the marked edging line. Dig wide enough to accommodate the width of the edging material and dig to a depth of 4 to 6 inches down. Dig deep enough to discourage weeds from popping up, yet allow enough room so the top of your edging will stick out of the ground about 2 inches to keep the grass from creeping over the edging.
Installation
For plastic or metal edging, push it into the ground and use a hammer to tap it into the ground until only an inch or two is showing. Since the tops of these materials tend to be thin or brittle and bend or chip easily, use a 6-inch block of wood between the hammer head and the edging material to prevent damage. Hammer in any spikes that came with the edging to reinforce the edging's position. For wider stone or brick edging, pour in a layer of sand. This layer of fill should be high enough so that the edging material rests high enough above the ground level to do its job.
Take a look at the entire project. Fill in any areas that need additional material. Backfill with soil as needed.
Tips
A really easy landscaping edging project is to use a shovel to cut out a 6-inch wide border around your flower beds or trees. Fill with mulch or river rocks for a simple decorative border.