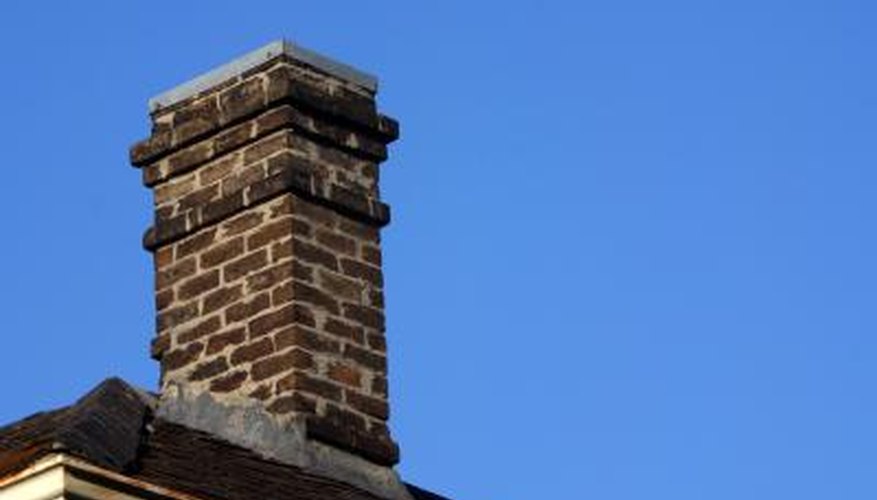 The proper chimney flue installation ensures that an appliance operates efficiently and is safe. A flue is the opening or vertical passageway in a chimney, through which smoke, toxic gases and other by-products of burning fuel pass and are routed to open air. The rules and regulations regarding the appropriate installation of a chimney flue vary depending on the local building code. The flue must allow the proper draft to pull dangerous substances out and pull adequate amounts of air in for combustion.
Installation Methods
Usually, most appliances must be connected to their own flue. A masonry chimney may have multiple flues. The inside of a prefabricated metal chimney is the sole flue; therefore, these metal chimneys can only service one appliance. Use only Class A Stainless Steel pipe when constructing a prefabricated chimney. The pipe is made out of two pipes in one or double-wall pipe. The size you'll need depends on the port size on the appliance.
The installation consists of running insulated chimney pipes up through the ceiling and through the roof. Pipe can also be routed through an outside wall and stacked to the minimum height specified by your building code. Local codes may require you to enclose the flue to insulate it from the elements. Kits appropriate for the type of installation you choose can be purchased along with the pipe. The project is not difficult. It gives you the flexibility for completing a proper chimney flue installation in virtually any location where you have the space for an appliance.
There are a variety of techniques employed for proper flue installation in masonry chimney, including clay tiles, concrete blocks, poured-in-place liners and stainless steel liners. Vitrified-fired clay tile liners are used to create flues in many traditional brick chimneys. The tiles are available in sizes of 8-by-8, 8-by-13 and 13-by-13 inches. Another material used to create flues in modern fireplace chimneys is precast concrete chimney blocks.
Concrete chimney blocks are typically available in sizes of 16-by-16-by-8 inch and 16-by-20-by-8 inch. Clay liners are usually secured to the chimney's block or brick structure with a heat-resistant refractory mortar. Unless you are adept in complicated masonry techniques, experienced masons will be required to properly construct clay flue liners.
Chimney flue liners were not constructed in many of the older homes with chimneys. If flue liners were installed, many have become obsolete or deteriorated. The most popular solution to this issue is to install stainless steel liners in the existing chimney. Stainless steel pipes are available in flexible and rigid forms. The installation of stainless steel flue liners is the process followed by most do-it-yourself (DIY) flue installation projects. The installation process is basically a two-person job that involves lowering the liner into the chimney by use of a rope or winch.
A poured-in-place, or cast-in-place, liner is also a proper chimney flue installation alternative. An inflatable form is lowered down the chimney opening. A semiliquid cementlike mixture is poured down the tube and forms the flue. In fact, if the chimney is large enough, more than one flue can be installed in the opening. The cast-in-place flues cure in 24 hours. They must be installed by professionals.
References