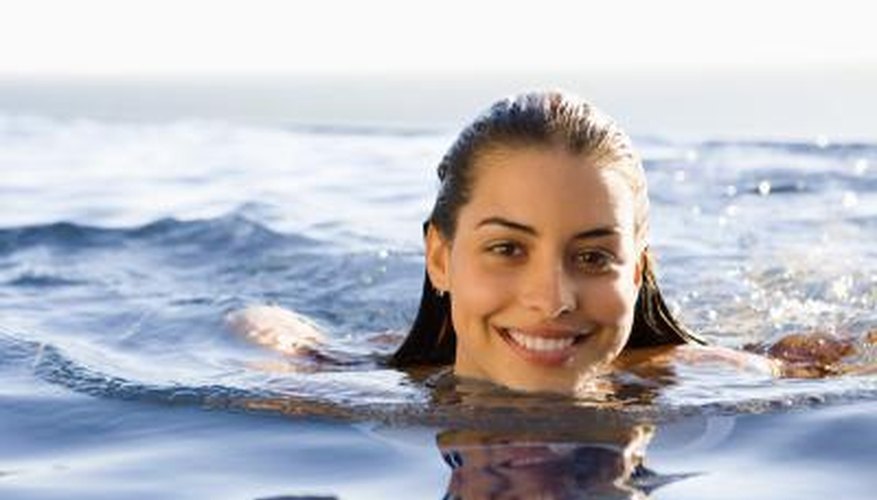 Inground pools come in three types: concrete, vinyl and plastic or fiberglass. Refurbishing an old inground pool requires first determining the construction and then determining the filtration system and the hardware used. Some inground pools use stainless steel, others use aluminum, and there are plastic and fiberglass pieces also.
Preparing the Pool
The first thing to do, of course, is to drain all the water from the pool. If it has been abandoned, unused and uncovered for some time, start by removing large debris and skimming away as much of the small litter as possible. To drain the pool, you'll need to know if it has a drain plug or if you'll need to use a portable pump. Pumps are available at most equipment rental stores and run on either gas or electricity. Run the drain hose to the curb so the water can reach a storm drain.
Cleaning the Pool
Concrete pools can be cleaned with any stiff brush and some bleach. Adding tri-sodium phosphate to the water and bleach mixture makes an even more effective cleanser. Scrub the entire surface of the pool, including any tiles or coping (cap on the edge of the pool). This will reduce bacteria growth when you refill the pool. Use a recommended industrial vinyl cleanser for vinyl pools and a fiberglass cleanser for fiberglass pools. Remember: you're not only cleaning what you can see, but also what you can't see. Fix or replace any damaged tiles or concrete coping around the pool. Make sure there are no chipped or sharp edges in any of the construction in or near the pool.
Pump and Filter
Most inground pools have a pump and filter system for circulating and cleaning the water. Check the pump for proper operation and clean or replace the filter as needed. Use a plumber's snake to make sure all the water lines to and from the pool are clear of debris. Damage to any part of this system may require replacement. It's important to have this system working properly to make the water safe for swimming.
Hardware
Inground pool hardware includes ladders, steps, underwater lights, filter boxes, drain covers and/or diving boards. Clean or replace all rusted and corroded metal pieces. Make sure all fasteners are tight, ladder handles are steady and light covers are secure. After draining the pool, check the bottom drain to make sure it is clear of debris and that the cover has a tight fit. Make sure the diving board is working to specification. If it is not, either remove it or do not use it until it is in perfect working order and, therefore, completely safe.