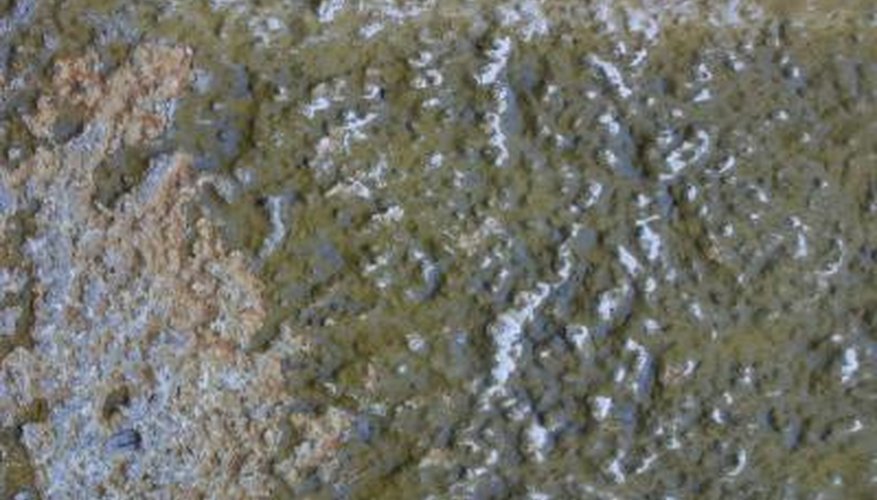 Photos.com/Photos.com/Getty Images
Poured concrete walls will look awful, unless that is the appearance you are wanting. Even if protective measures are taken during the pouring process, concrete walls will have multiple imperfections, depressions, bumps, seams and uneven coloring.
Resurface
Resurface the poured concrete walls to create an even appearance. Resurfacing starts with grinding down any high spots or visible seams in the dried concrete. The next step involves filling in depressions by spreading thin layers of tile grout over the surface of the wall. Work the grout so that it is smooth, or create a distinct pattern of strokes for visual interest and to hide imperfections in the resurfacing procedure. Tile grout is recommended over a thin layer of concrete because of the color selection and fine texture.
Paint or Stain
After the face of the wall has been smoothed or a pattern has been added by resurfacing, the wall can be stained or painted. Paint will hide the concrete, whereas stains add interest and color while showing the underlying concrete.
Two or three complementing colors of stain staggered over each other provide a nice layered effect that mimics patterns found in natural stone. This is an attractive solution for interior and exterior concrete walls. A high-gloss sealant gives the appearance of polished stone.
Paint has limitless options to improve the appearance of poured concrete walls. A single color that complements the room or environment may be sufficient to improve the look of the concrete wall. Faux finishes to imitate stone or wood add elegance to a formal room, while a panoramic outdoor scene adds whimsy to a play room.
Stone or Brick Veneer
Tiles that imitate brick or cut stone installed on the surface of the concrete wall gives the appearance of a brick or stone wall. Brick and stone veneers are an excellent solution for interior or exterior walls. This treatment is especially attractive in dens, family rooms and kitchens.
Fabric Covering
Interior concrete walls lack visual warmth. Fabric added to the wall surface provides a softer appearance, color, pattern and sound control.
Apply upholstery fabric to the surface of a concrete wall that has had all high spots and seams removed or smoothed with a grinder. Spread a thin coat of wallpaper adhesive on the concrete to secure the fabric. After the adhesive is dry and the fabric is in place, trim away any excess fabric using the edge of a ruler and a carpet knife.
Warnings
When using a grinder to remove high spots in concrete walls, always wear safety glasses or face shield. The grinder will create sparks when it comes in contact with concrete, so always keep flammable materials away from the work area.