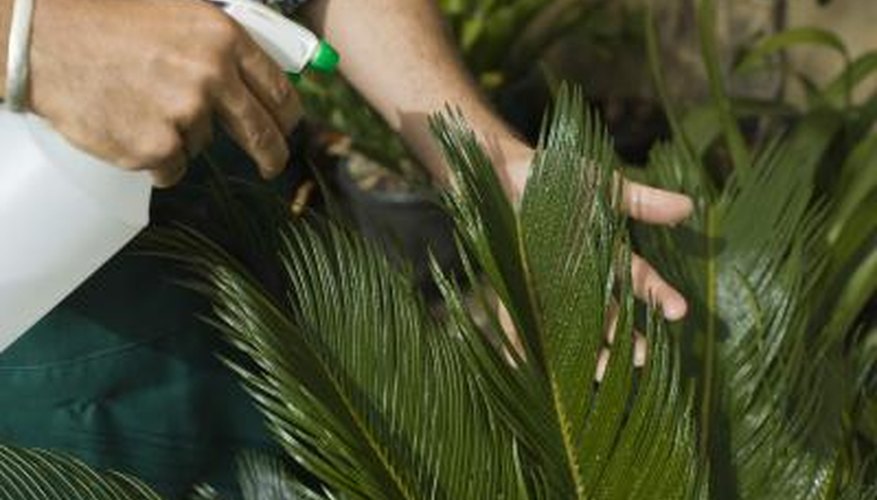 Spider mites are a tiny pest, less than one-20th of an inch long, that feeds off of the cell content of plants. They live in colonies on the under surface of leaves and produce a silk webbing, which makes them distinguishable from other pests. Although they can be a nuisance, there are homemade sprays to use to rid your plants of them.
Signs of spider mites on plants
In small numbers, spider mites should be no cause for concern, but in very high populations, they can do considerable damage to plants. A simple test to check for spider mites consists of taking a piece of white paper and holding it under a leaf. Tap the leaf, and any mites that are present will land on the paper, appearing as tiny, dark flecks that move. Damage to the plants will start as stippling, or tiny dots. The leaves will sometimes take on a bronze color, and as the damage worsens, the leaves will turn yellow and begin to fall off.
Getting rid of spider mites
Insecticidal soaps, which can be found at any garden supply store, are effective at killing spider mites. When spraying them, make sure to wet the plant thoroughly, especially on the underside of leaves, as the solution must come into direct contact with the spider mites to kill them. Repeat for one to two weeks until you no longer find any mites.
It is best to spray in the morning because the soap can burn the foliage if the air temperature gets too high. Before the soap dries, rinse off with a second spray of water. When mixed, the soap solution should be almost clear, with a slight milky color. If it is milky white or there are solids forming in the container, do not use it as the solution has gone bad.
Another effective treatment for spider mites consists of mixing 5 tbsp. of dishwashing detergent with a gallon of water. As with the insecticidal soap, spray the plant thoroughly for good control. Reapply every five to six days, if necessary, until the spider mites are gone.
Mix equal amounts of rubbing alcohol and water in a spray bottle to also kill spider mites. The alcohol is poisonous to the mites and will evaporate quickly so as not to cause any damage to the plant itself.
These recommendations are equally effective on both indoor and outdoor plants.