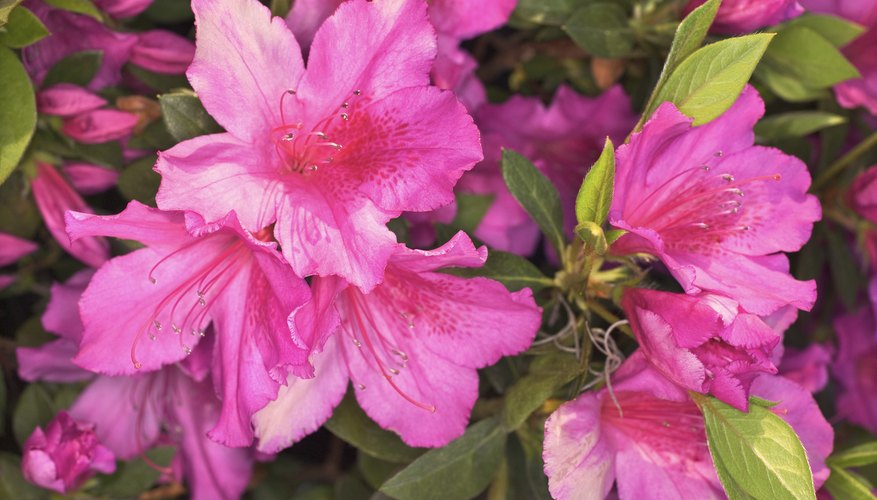 Azaleas are popular, flower-blooming shrubs that are grown throughout the United States. Popular for their low maintenance and hardy characteristics, azaleas are chosen by homeowners and landscapers alike to add color and character to homes and gardens. The sun or shade required by azaleas depends on location and species.
Deciduous Azaleas
There is no such name as "shade" or "sun azalea;" however, there are common evergreen azaleas and deciduous azaleas. These plants have different sun requirements and care requirements, making one more favorable to sun and the other to shade.
Deciduous azaleas differ from common azaleas in that they lose their leaves in the fall and grow a new set of leaves in the spring. This species of azalea requires planting in partial shade to full shade. Unless given constant moisture, it will die in full sun. There is also a regional aspect to the growth of deciduous azaleas. According to the Azalea Society, deciduous azaleas flourish in the shade moreso in the north than in the south; because of that, deciduous azaleas are rarely planted in the southern regions of the United States. Intense heat and stronger UV rays negatively affect the deciduous variety of azaleas. Beyond losing their leaves in the fall, deciduous azaleas can be differentiated from evergreen azaleas by flowering abundance. Deciduous azaleas, though with numerous flowers, have considerably less blooms than evergreen azaleas. The lack of full sunshine cuts down on photosynthesis resulting in full, rich foliage and less flowers.
Evergreen Azaleas
Evergreen azaleas' foliage remains green throughout the year, requiring partial sun. Evergreen azaleas are more commonly found in southeastern, central and western areas of the United States. These abundant flowering plants bloom more than their deciduous counterparts; according to Azaleas.org, evergreen azaleas have smaller branches and more bloom, but the blooms are shorter-lived. If questioning which azalea plant is best for your planting environment, consider geographic region and the sun levels of your desired planting location. If you live in a southern or considerably warm section of the United States, evergreen azaleas will be the best option; on the other hand, cooler, northern regions of the United States are best suited for deciduous azaleas.
Basic Care
Despite variation in sun requirements and growing characteristics, these two varieties of azaleas have similar care needs. Azaleas are shallow rooting plant species. Plant all types of azaleas in high-quality, well-draining soil. These soils can be purchased at quality garden centers. Water azaleas regularly; they require moist soil. Because their root system is shallow, the roots will not dig deep in soil for water. Surface soil dries out the fastest in periods of drought. Water azaleas every day to every other day, depending on the dryness of your soil.