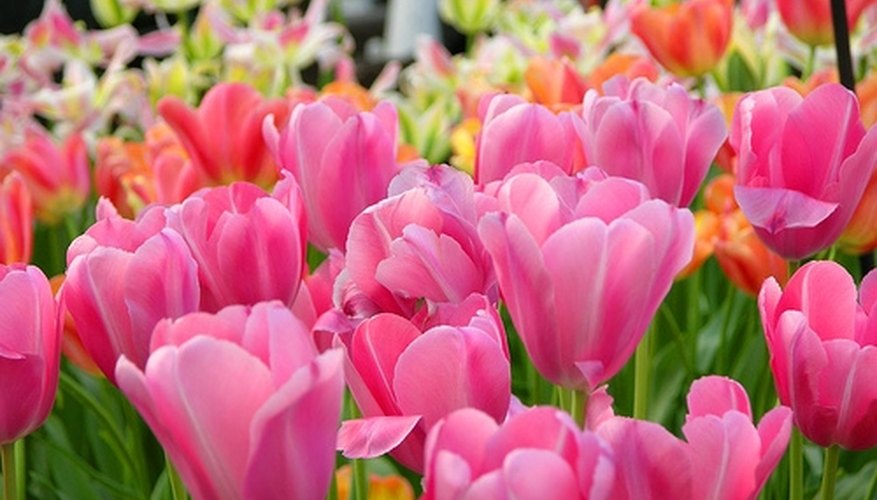 Planting flowers can be a therapeutic and enjoyable hobby, even for a novice gardener. You'll need to learn about different planting methods and the best times to plant various seeds and bulbs. Knowing when to plant your flowers can help you create a colorful and attractive garden.
Factors
Growing conditions depend on timing, planting zones and flower variety. For instance, not all flower varieties are suitable for desert regions such as Arizona, Nevada and parts of California. According to the U.S. Department of Agriculture plant hardiness zone map, states such as Nebraska, Kansas and Missouri have longer growing seasons than states with colder climates such as Minnesota and Michigan. Growing flowers in a greenhouse can eliminate the need to follow zone planting guidelines. If you live in a region with a short growing season, start flowers indoors two weeks before spring.
Flower Varieties
Beginning gardeners will need to do some homework when planting a variety of flowers because some flowers must be planted earlier than others. Plant any bulb flowers such as irises and tiger lilies in the late fall so they can bloom by the following spring. Plant annual flowers as early as possible in the spring so they can bloom before cold weather kills them. Moisture-thriving varieties such as orchids and calla lilies should be planted in late spring in warm areas and earlier in colder climates.
Miscellaneous Tips
Plant cold-loving flowers in mid-spring to have healthy plants by winter, and plant perennials of any type at the end of a growing season to assure proper growth by the following season. Grow flowering vegetables such as artichokes in the early spring so they will have their first blooms by mid-fall. Tend to your soil properly by using peat moss for adequate drainage, and surround newly planted seeds with the peat moss to keep the sprouts warm. Plant rose bushes a week before the first week of spring to have attractive blooms by the end of summer.