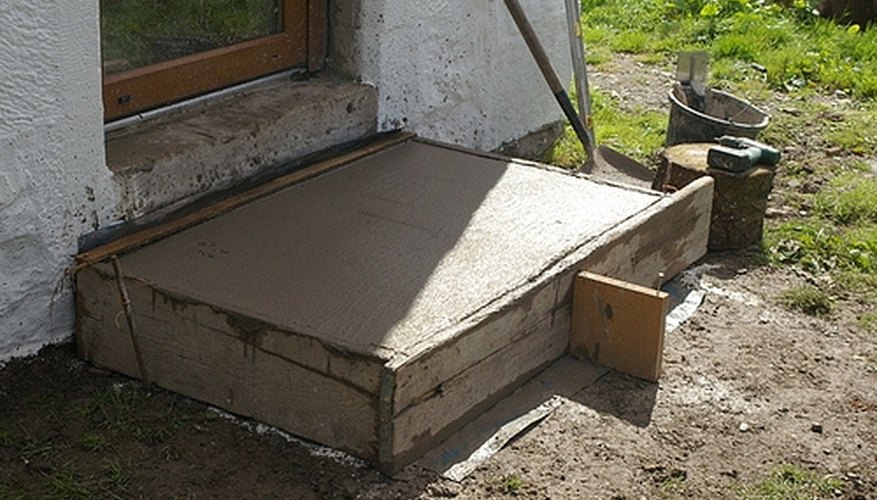 Concrete is a strong, durable building material. Used in a slab, it can create a surface that lasts for decades. However, as it ages, it can become displaced, sinking into its foundation or losing bits and pieces. When this happens, you have two options: replacement or leveling. Leveling the slab is less expensive, and it can be done well by following a few instructions.
Preparation
You'll have to prepare the slab properly before you begin to level it. Make sure it has no major damage such as cracks or pitting. Clean the slab, removing any dirt or debris. If you have removed flooring from it, take off any remaining glue by placing rags on the glue and pouring boiling water on the rags. Let the rags sit for a few minutes so the water can soften the glue, then remove the rags and glue.
To level the slab, you are going to create a new layer of material on top of it, and the material will adhere to the slab better if the existing surface has been roughened slightly. For this, you can use a sandblaster or a chemical concrete cleaner.
Go over the slab with a wire brush and a broom. If there are any cracks, fill them with crack sealer, or with a sand mix compound for larger cracks. When the repairs have dried, wash the slab with warm water, then place a form around the slab's edges to keep the material you are going to use for the new surface from running over the sides.
Applying Leveling Compound
You'll use a leveling compound to create the new surface of the slab. Choose the type of compound based on how deep you need the new layer to be. For thicker leveling layers of more than 1/2 inch, use concrete mix. For something thinner, you can use a resurfacing compound.
Saturate the slab with water before you apply the leveling compound. This should keep the slab from absorbing the water from the compound, which could cause a weaker bond.
Mix up a thin batch of the compound and brush it onto the slab, using a trowel to level the surface. Let it dry for two hours, then smooth the surface. Allow the new layer to set before removing the form.