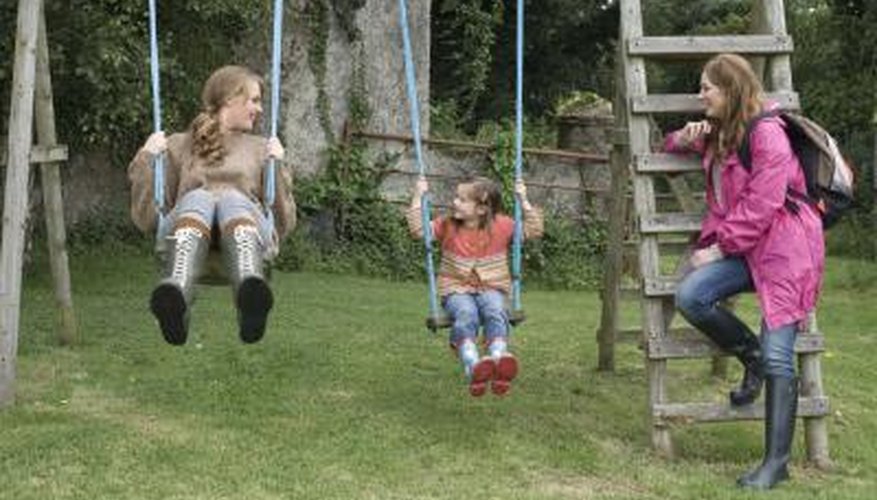 There's just something tranquil and relaxing about a well-manicured park, which is why it's an ideal place to draw inspiration when you landscape your back yard. You don't need a team of landscapers to recreate the look on your property, however. With a few simple do-it-yourself projects, such as laying a gravel walkway or setting up a swing set, you can duplicate a small slice of your favorite park right in your own back yard.
Groom Your Lawn
Forget about a large paved patio or wooden deck if you want your back yard to resemble a park. Instead, work on cultivating a lush, green lawn. If your yard has bare spots that need to be covered, then laying sod can create a healthy lawn. Measure your yard carefully to know how much sod to order, and clear the yard of weeds, unhealthy grass, rocks, roots and other debris. Use shovels and rakes to level the soil where sod will be installed. Sod can dry out when it sits for a while, and so it should be laid as soon as it is delivered. Start installing sod along the yard's straight edges, such as walkways, walls or fences. The sod pieces' seams shouldn't line up exactly. So stagger the subsequent rows. Fill irregular areas with cut pieces of the sod. In order to ensure the sod grass' roots are in firm contact with the soil, it helps to use a sod roller to pat the sod downward. Water the sod daily for one or two weeks before decreasing the watering frequency to every other day.
Add Color
Choosing plants to complement the lush lawn will brighten your backyard park. Flowering shrubs that line the sides of your yard also will help define the space. Rose shrubs such as "Sunsprite" (Rosa "Sunsprite"), hardy in U.S. Department of Agriculture plant hardiness zones 5 through 10, and "Morden Blush" (Rosa "Morden Blush," USDA zones 3 through 9) offer colorful blooms that fit an elegant park backyard design to a tee. Azalea shrubs are another classic choice for a park-inspired landscape. Flame azalea (Rhododendron calendulaceum, USDA zones 5 through 7) produces flowers in warm orange, red and yellow shades while Alabama azalea (Rhododendron alabamense, USDA zones 7 through 8) blooms with large white to yellow or dark-pink flowers.
Clear a Path
Although a healthy lawn is definitely part of a park landscape, the back yard should have clear walkways, too. They don't have to be paved with stone or brick to sell the park look, though. Simple paths covered in gravel or bark mulch have a rustic ambiance that complements a green lawn and are usually easier to install than paver walkways. A gravel or bark mulch path must have a compact base, which typically means building a base for it made of tamped stone and lined with landscape fabric to keep weeds at bay. Each path also requires edging to keep its loose gravel or bark mulch in place. Use metal, wood, bricks, cobblestone or plastic edging.
Take a Seat
Instead of using traditional backyard furniture such as a table with an umbrella or lounge chairs, focus on pieces that you may find in an actual park. Benches are an ideal option; you could place a metal or wooden bench under a tree or beside a flowerbed to create a quiet spot for reading. If you want a table and chairs set in your back yard, opt for a metal or stone bistro-style set to keep the look simple and understated.
Play Around
If you have children, you could devote part of the back yard to them. A swing set is an ideal option because parks often feature playgrounds. Basic swing sets take up less space than more elaborate play sets that have a slide or monkey bars in addition to swings; kits are available at home-improvement stores. Another possibility is to add a hopscotch board to your garden area. Lay simple concrete tiles on the ground, alternating rows of two tiles and one tile to create a traditional hopscotch board layout, and add numbers with concrete paint and stencils.