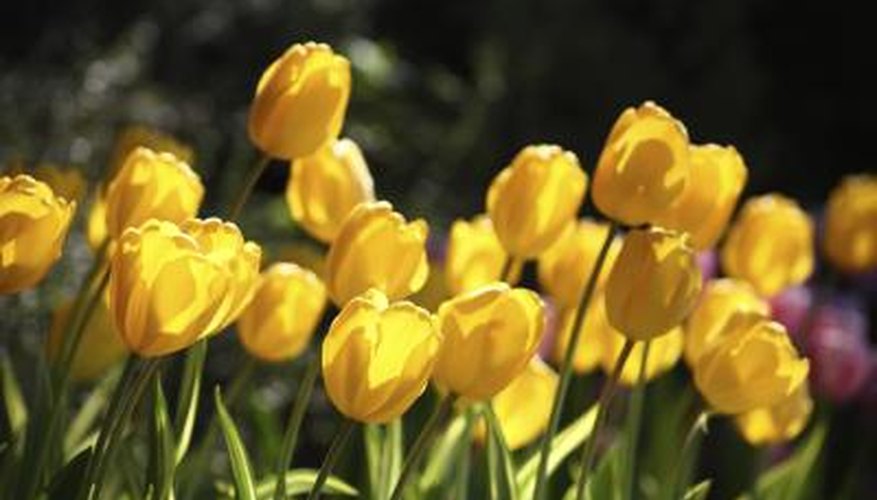 Tulips (Tulipa spp.) may not command the high prices that they did in the 1600s -- when a single bulb was worth as much as four oxen, eight pigs and several loads of wheat and barley -- but they are still a favorite among home gardeners. Get the most out of your tulips -- even if you purchased them at the bargain price of a few dollars -- by caring for them properly.
In the Garden
Tulips are most often planted outdoors, where they cheerfully welcome spring with their brilliant, showy blooms. Growing in U.S. Department of Agriculture plant hardiness zones 3 through 8, tulips prefer temperatures on the cool side, and blooms last longer if they are given some afternoon shade in zones 7 and 8. Giving your tulips the best growing conditions will also help them last longer. One of the biggest problems tulips have is rotting bulbs, which happens if they sit too long before planting or are grown in wet soil. Plant your bulbs as soon as possible after you get them, and site them in well-drained, fertile soil. Dry, sandy soil works best. Plant tulip bulbs at least 8 inches deep, with 4 to 6 inches of space between them. Water immediately after planting, but after that, let the rain do the watering for you.
In a Pot
Tulips grown in pots indoors or out will live longer if you keep them in a cool location and provide good drainage. The best way to do that is to use a pot with holes in the base to allow water to drain freely from the bottom. If your pot is under cover outdoors or is indoors -- potted tulips are sometimes given as gifts and grown indoors for short periods of time -- keep the soil continually moist, but not soggy. Finally, locate your potted tulips so they get bright sunlight, but not hot, direct sun. Morning sun is best. Indoor potted tulips benefit from applications of houseplant fertilizer. Use a water-soluble concentrate. Instructions will vary by brand, but in general, dilute 1 teaspoon in a gallon of water and use the solution to water the pot every other week until the leaves die back.
In a Vase
Nothing brightens up a room like flowers, and tulips are a common choice in cut flower bouquets. Keep them lasting as long as possible by immediately removing the bottom 1/2 inch of each stem as soon as you get the bouquet home, or when you cut them from your garden. Cut the stems at an angle, then immediately place them in a clean vase filled with lukewarm water. If you cut them under water, you lower the chances of air entering the stems -- air bubbles can block the stem from absorbing water and shorten the life of the flower. Adding a floral preservative to the water can prolong the life of the flowers, as will placing the vase in a location away from direct sunlight and hot or cold drafts. Finally, top off the water each day, and change it every four days, or whenever it starts to cloud up.
Long-Lasting Choices
Give your tulips a head start by choosing varieties that already have long-lasting blooms. Sturdier plants, such as Darwin varieties, are less likely to be beaten down by wind and rain. Darwin tulips are hardy in USDA zones 4 through 7. Some tulips are just genetically predisposed to last longer, such as lily-flowered varieties, which are hardy in USDA zones 3 through 7.