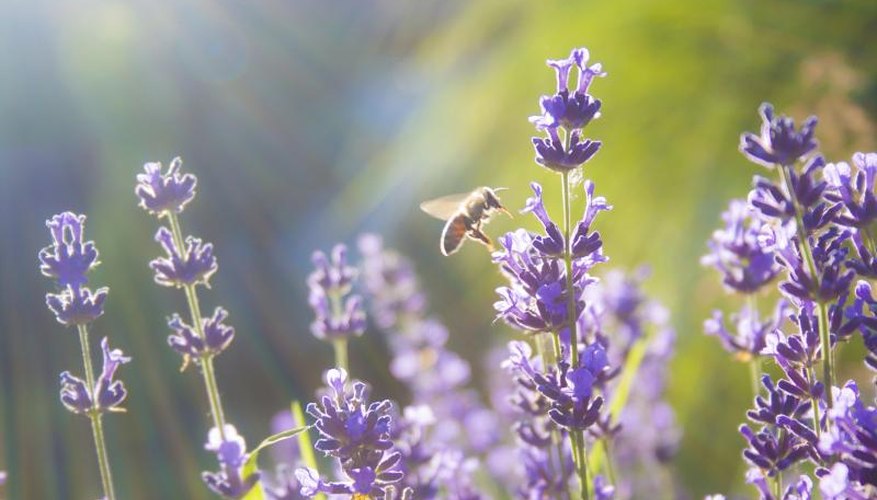 French lavender (Lavandula dentata) is an aromatic evergreen perennial that grows into a mound about 2 feet tall, producing spikes of violet blue blooms and white to grayish green foliage. The flowers are commonly dried and used in potpourri. Like other lavender species, French lavender is a hearty plant that's rarely bothered by pests and diseases, requiring little maintenance when planted in the proper cultural conditions.
Plant in a Sunny Site
French lavender is hardy in U.S. Department of Agriculture plant hardiness zones 8 to 11, where it requires full sunlight for the best flowering. Where it's not hardy, French lavender may be grown as annual or planted in a container and brought indoors before the first frosts of fall. Indoor plants should be put in front of a bright, south-facing window with indoor temperatures that stay above 40 degrees Fahrenheit. Though heat tolerant, French lavender will struggle in extreme heat, preferring temperatures below 105 F. If you plant multiple lavenders, provide at least 2 feet of space between plants. Ample space between plants will help prevent foliar disease, particularly in hot, humid climates.
Plant in Well Draining Soil
Well draining, sandy soil with minimal organic matter is ideal for French lavender. Amend poorly draining soils by incorporating 1 inch of finely shredded bark, such as 1/4-inch bark, into the top 6 to 8 inches of the soil. French lavender is more likely to develop root rot in unamended heavy clay soils. For potted plants, use a mixture of equal parts soil, sand, compost and perlite. You can also mix a few crushed eggshells into the soil to help maintain a high pH; lavenders prefer alkaline soil. Use a container with a hole in the bottom for drainage.
Water Sparingly
After planting, water the lavender once or twice a week for the first growing season, from spring until fall. Reduce watering for established plants to every two to three weeks or so until flower buds form. Once buds form, water once or twice a week until flowers are spent for the season, and then reduce watering again. Excessive irrigation can quickly lead to root rot. The Arizona State University also notes that erring on the side of less water helps keep French lavender compact and bushy. For potted plants, water when soil has started to dry out, but before it becomes completely bone dry. Plants in clay pots dry out more quickly than those in plastic.
Prune in Spring
Prune in the spring after new growth has emerged. Prune lightly to remove 1 inch of old growth. You may prune away up to one-third of old stems if the shrub has started to become unsightly or if you have skipped a year or two. Remove dead or diseased growth. To shape French lavender, prune immediately after flowering. Disinfect pruning equipment afterward by soaking tools for 5 minutes in a solution that is equal parts alcohol and water. Rinse with water and air dry.