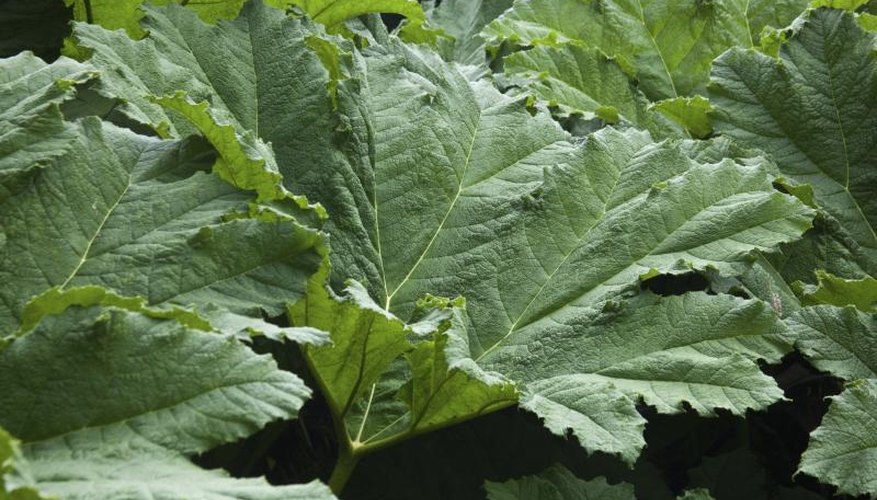 If you have a garden with a pond or stream, consider lining the water with species of the perennial Gunnera genus and their dramatic leaves. These plants need moist soil. Beyond that they're easy to maintain. Dinosaur food (Gunnera manaicata) grows up to 10 feet tall and 14 feet wide in rounded clumps. Chilean rhubarb, also called giant rhubarb, grows from 6 to 8 feet tall. Although the leaves resemble culinary rhubarb (Rheum rhabarbarum), they are not botanically related.
Soil and Climate
Plant dinosaur food, also called giant rhubarb and giant gunnera, from 10 to 12 feet apart in deep, moist soil with a pH from 6.1 to 6.5. Dinosaur food grows in U.S. Department of Agriculture plant hardiness zones 6a through 8b. Chilean rhubarb, also called giant rhubarb, Chilean gunnera or dinosaur food, grows best in deep, moist soil with a pH from 5.6 to 7.5 in USDA zones 7a through 10b. Plant it 6 to 8 feet apart. Culinary rhubarb, also a perennial, will grow in USDA zones 3 through 8.
Soil, Moisture and Pests
The key to growing gunneras is understanding that they are native to intertidal zones. These plants like consistently moist to boggy soils and grow well on the edge of ponds and streams. Their leaves suffer if they're grown in full sun. Large gunnera leaves can be up to 3 feet wide. Grow the plants in a spot where they are sheltered from the wind, which can damage their large leaves. Moist growing conditions are an invitation to snails and slugs that can afflict gunneras. You can trap the slugs and snail with boards 12 to 15 inches long and raised 1 inch off the ground. The snails and slugs attach themselves to the underside where you can scrape them off.
Flowers, Water and Fertilizer
In early summer, dinosaur food grows tiny, reddish-green flowers in thick, clublike spikes 3 to 6 feet long. These, in turn, yield tiny, reddish-green fruits. Bronze Chilean rhubarb flowers grow on similar spikes. Remove spent flower stalks to encourage more to grow. Soak your pruning shears with a 70 solution of isopropyl alcohol for two to five minutes and let them air dry before using. Moisten the soil every 10 days if the gunnera is not growing by a stream or pond. Sprinkle a small handful of 5-10-5 fertilizer around each plant in early spring and again six weeks and 12 weeks later.
Growing in Colder Areas
Gunneras are evergreen in the warmer end of the growing range and deciduous in the colder climates. If you live in an area where they are deciduous, lift the plants before the first fall frost, knock off the soil and keep the bare roots over the winter in peat or vermiculite at 40 degrees Fahrenheit. If you grow gunneras in containers, move them into an unheated garage or other protected area where they will go dormant. Plant bare roots outdoors in spring after the last frost.