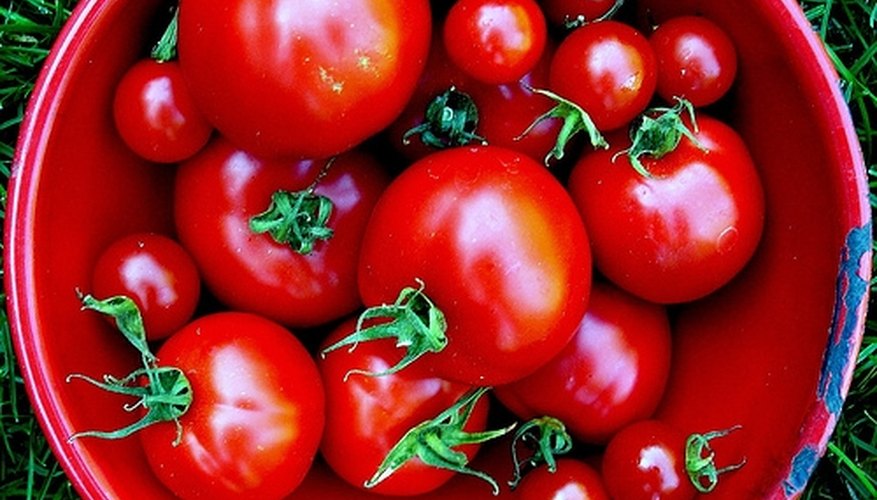 Tomatoes need nutrients to grow heartily and produce fruit. However, why buy plant food when you use homemade solutions? Create your own organic fertilizers and compost at home, and you'll be rewarded with a bountiful crop.
Signs of Malnutrition
Tomato plants that are depleting the nutrients of their soil may have yellow and undeveloped leaves, slow growth and low fruit production. If this is the case, it may be time to fertilize. According to "Tantalizing Tomatoes: Smart Tips and Tasty Picks for Gardeners Everywhere," the best times to fertilize tomato plants are a few weeks after transplanting, right after the plant begins to bloom, when fruits begin to appear, and after you harvest your first tomato. This fertilization can be either an application of compost or of a liquid fertilizer.
Compost
Your compost bin can be one of the richest resources when it comes to keeping your soil nutrient rich. Among the many methods of composting are free-standing tumblers, vermicomposting (using earthworms), raised bins and pits or heaps. The suitability of each method for your needs depends on the time and the money you are willing to spend. After you choose your composting method, you can add most vegetable and fruit kitchen waste, tea bags, newspaper and coffee grounds to your compost container/area. If you aerate frequently, you will soon have rich compost that will nourish your garden.
Compost Tea
If you want a more highly concentrated compost, make compost tea. Use immediately when the week is over or the tea may spoil. If it does not smell sweet and earthy, do not use on your plants. Water only the base of your tomato plant; the compost tea may damage leaves if it comes in contact. This soil soup will bring a concentrated dose of nutrients and beneficial microorganisms directly to the roots of your tomato plant.
Coffee
Your leftover coffee grounds and cold coffee will also help perk up your tomato plants, especially if you live in a region of the country where the soil is not nitrogen-rich. Add coffee grounds to your compost heap or mix directly into the soil around your tomato plants. Once in awhile, applying cold coffee to the base of your tomato plant will provide the helpful nitrogen that will help your tomatoes grow and produce well. Use coffee and grounds infrequently and before your tomatoes fruit; nitrogen will cause the plants themselves to grow strong, but the nutrient does not help fruit production.