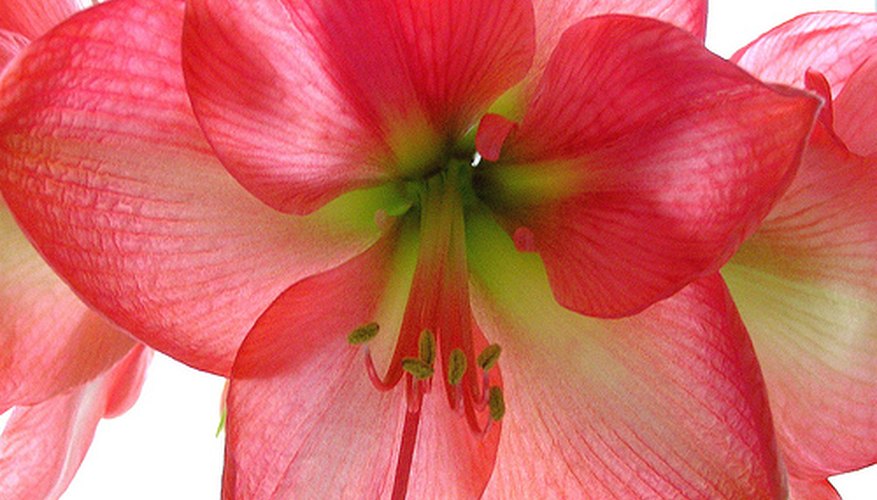 Amaryllis come in a variety of oranges, reds and pinks. Of the flowering bulbs, it is one of the easiest to tend, making it a good choice for beginning flower gardeners or those new to bulb growing. Amaryllis is a holiday bloom, bringing bright summer color indoors during the height of winter, and is considered one of the Christmas flowers along with poinsettia. Amaryllis is most often grown in containers indoors, with only one bulb per container.
Choose a clean bulb with no signs of rot. Choose bulbs with short stems attached---as opposed to longer stemmed ones---so the amaryllis will first grow healthy roots before flowering.
Fill a shallow bowl with lukewarm water. Set just the roots into the water and let soak for 2 to 3 hours to loosen them.
Choose a container that is 7 inches deep and 2 inches wider than the bulb diameter. Choose clay pots or well-drained containers to avoid drowning the plant and causing root rot.
Fill the container half full with potting soil. Place the amaryllis bulb on top of this soil base then fill around it with soil, packing firmly, up to where the stem emerges from the main bulb.
Water the freshly planted bulb so the soil is very moist but not soggy. Place in indirect sunlight and maintain a temperature of approximately 70 degrees F while it is sprouting.
Allow the soil surface to dry between waterings once the amaryllis begins putting on new growth, usually within 3 weeks.
Fertilize every two weeks with a balanced general purpose fertilizer.