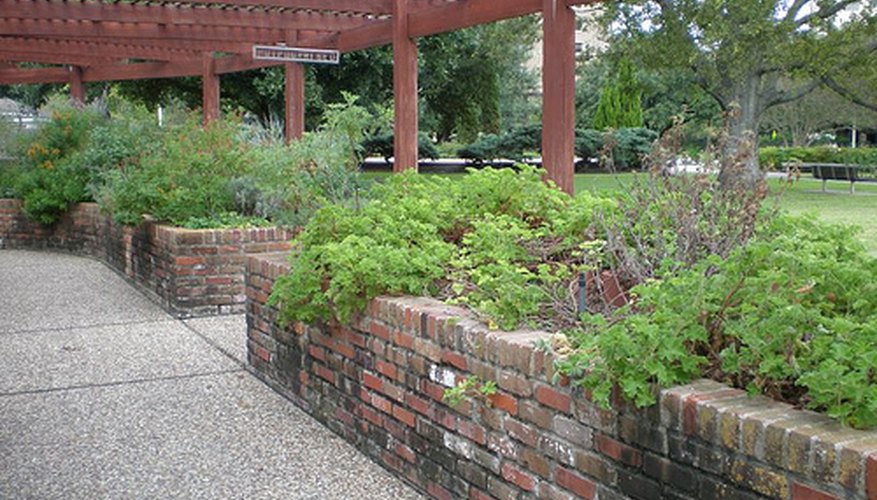 Having your own herb garden can save you money, make your food taste better or simply make a special outdoor space more aromatic. There are nearly as many potential designs for herb gardens as there are herbs themselves. By taking the time to plan out the details of your herb garden before you plant, you'll ensure your herbs have optimal growing conditions and an overall design that pleases you.
Calculate how much time you'll have to tend to your garden. This should help you realistically decide on the size of your new herb garden.
Decide on the purpose of your herb garden. Typically herb gardens are planted for three reasons; to grow herbs used in cooking, home medicinal remedies or for fragrance and aesthetics. Your herb garden may have one of these uses or a combination of the three, but deciding what you'll be using your herbs for will help you later on.
Choose your herbs. Decide which herbs you want to include in your garden. This will help you tailor your herb garden to the specific needs of your chosen herbs.
Read up on your chosen herbs. While most herbs require a lot of sunlight some do better with shade. Know what conditions your chosen herbs need so you can pick the best location for your herb garden.
Choose a location. Once you know what sunlight conditions you need, you can choose the best spot for your new herb garden. You may choose to create a new herb garden from scratch or incorporate your herb garden in with an existing flower garden. Whichever you choose, make sure the area has good drainage for your herbs. This is a must.
Plan the placement of your herbs. Create a sketch of what your new herb garden will look like. Even a very rough drawing will help you better use your space and make your herb garden more visually appealing.
Prep your area. If starting from scratch, stake out your garden using wooden stakes or sticks and tie string from one stake to the other. This will help you visualize your herb garden and make design changes before it's too late. If you're adding to an existing space prep the area by cleaning out any leaf debris or unwanted plants.
Dig out your garden. Follow the pattern you created with the stakes and strings to form your new herb garden.