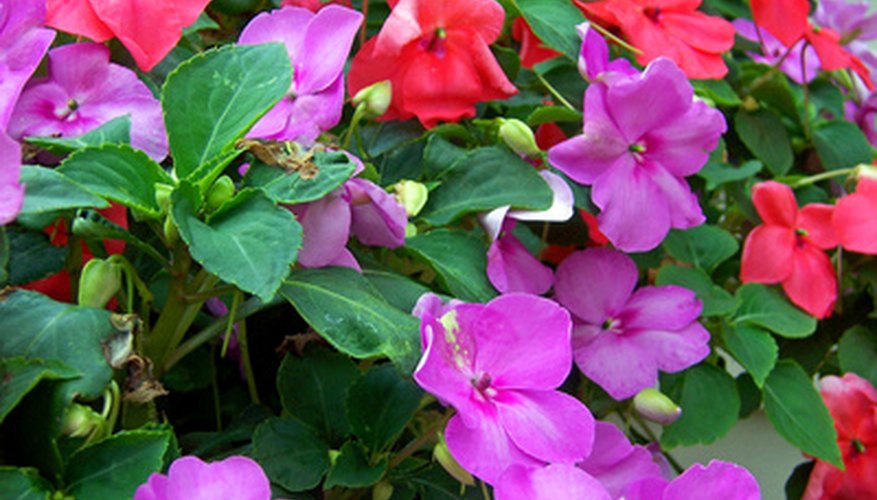 The empty landscape is a blank canvas, and this may be both exhilarating and overwhelming to many gardeners. There are many different types of landscape plants available to the modern gardener, each performing a different role in the garden. It's important to take into account the lifespan, size and the amount of care each plant will require before you decide on a landscaping plant.
Ground Cover
Low-growing plants that are used to fill bare areas in the garden are often referred to as ground cover. A stone path in a garden can go from functional to whimsical with the addition of a good ground cover. While ground cover may simply be green grass, there are many other choices that are a little more unexpected and interesting. The semi-succulent moss rose (Portulaca grandiflora) makes an excellent ground cover, as it will grow in poor, rocky soils and will produce small roselike blooms. The dense, fast-growing wandering Jew (Tradescantia zebrina) and the drought tolerant, evergreen creeping juniper (Juniperus horizontalis) are also popular choices.
Specimen Plants
Specimen plants are often larger plants such as a shrub or a tree that have distinct ornamental value. A specimen tree is usually grown alone in the center of the garden or somewhere else where it can be admired without overcrowding from other plants. A good specimen plant might have unusual flowers or fruits, or attract wildlife or butterflies to the garden. Popular specimen plants include the magnolia tree (magnolia spp.), a majestic tree that produces fragrant blooms; the ocotillo (Fouquieria splendensis), a spiny shrub native to the American Southwest; and the Japanese laurel (Aucuba japonica), a spring-blooming shrub that may also be used as a privacy screen or hedge.
Bedding Plants
Bedding plants are used to create dense areas of color and texture within the landscape. Bedding plants are usually flowering and sometimes are arranged to create elaborate patterns and shapes with color. Flower beds can be used as a centerpiece to the garden or to accent a larger structure such as a fountain or even a tree. Annual plants--those that have a lifespan of one year--are often used to create spring and summer color before they are killed by the first frosts of the year. Some popular annual bedding plants include the colorful, low-growing cosmos (Cosmos bipinnatus), the low-maintenance and bushy impatiens (Impatiens wallerana) and the disease-resistant and pest-free marigold (Tagetes spp.).