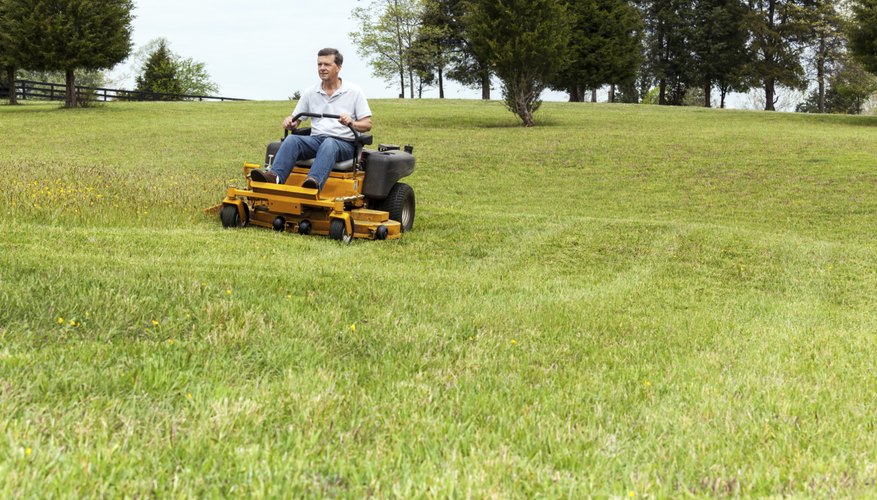 Zero-turn-radius mowers are unquestionably cool. The maneuverable monsters, long used to keep golf course fairways and parks looking neat, are now available to home-owning weekend warriors. Before buying one of these high-tech, high-priced wonders, consider your needs as well as the machines' abilities. You might find better options for your wallet as well as your yard.
Needs and Wants
Consider whether you have a large enough yard to justify paying $2,500 to more than $6,000 for a machine with a 50- to 60-inch wide mowing deck. Zero-turn-radius mowers mowers are large machines. Their maneuverability is perfectly suited to large flat or gently sloping areas with well-designed beds. Unfortunately, their perfection does not extend to sharp corners or hills steeper than 10 to 15 degrees, where caster-mounted front wheels slip sideways, causing loss of control. Entry-level machines are less durable, but you'll trade them in with less remorse.
Match Your Style
If you're still convinced that a zero-turn-radius mower is for you, test drive a variety of models to find some that are easy to handle and have the right power and features for your driving style. Your mower should handle your rolling lawn easily, but never get away from you. The mowing deck should fit between the narrowest passage between beds. Check the ratings that compare noise, ease of operation, durability and other features -- one model even features joystick steering rather than the dual lever system. Once you've narrowed the field, buy the best model you can afford and mow on.