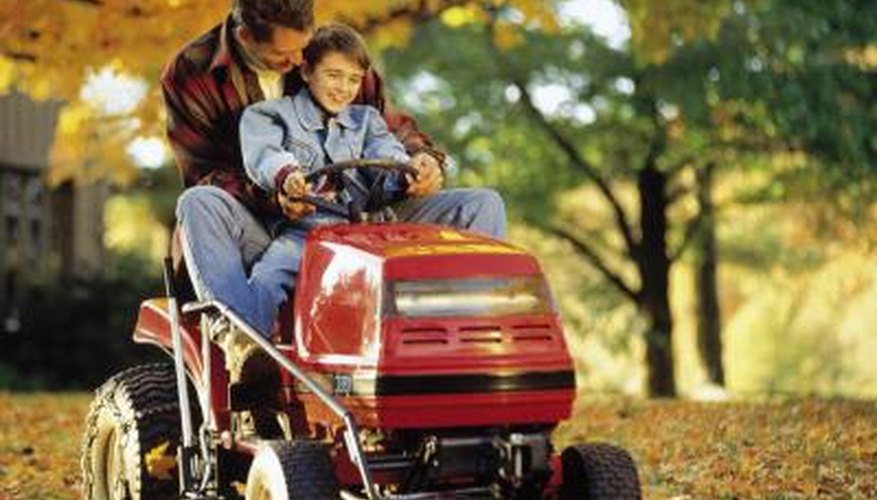 Craftsman manufactures a number of riding lawn mowers commonly referred to as lawn or garden tractors. Most of these utilize hydrostatic drive. A number of additional attachments are also available to make the lawn tractor more versatile. Mower decks vary in cut path from 42 to 54 inches and generally are gas powered with a 3-gallon capacity tank.
Engine
Engines are obviously one of the principle parts of a Craftsman riding lawn mower. Commonly the mowers are powered by Briggs & Stratton engines with limited models utilizing the Kohler engine. Most of the mowers are powered by two-cylinder gas engines of varying horsepower.
Cutting Deck
Cutting decks are the business end of any lawn mower. Depending on the size of the mower deck, the Craftsman riding lawn mowers utilize either two- or three-blade mower decks. Decks can be fitted with grass catchers or left to blow grass clippings from the right side of the deck.
Wheels
Front wheels measure 15 to 16 inches in height by 6 to 7 1/2 inches wide by 6 to 8 inches in wheel diameter. Rear tires measure 20 to 23 inches in height by 10 to 10 1/2 inches wide by 8 to 12 inches in wheel diameter. The Craftsman riding lawn tractors are equipped with disk brakes.
Other Parts
A cupholder, deluxe padded steering wheel and an adjustable seat are standard equipment on most Craftsman riding lawn tractors. They also possess an electric clutch to control any potential attachments, such as a dozer blade or a snow blade or thrower.